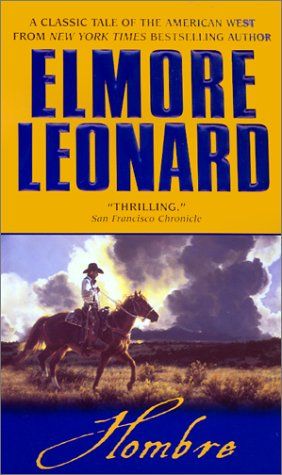 Elmore Leonard
Hombre
At first I wasn't sure at all where to begin. When I asked advice, this man from the Florence Enterprise said begin at the beginning, the day the coach departed from Sweetmary with everybody aboard. Which sounded fine until I got to doing it. Then I saw it wasn't the beginning at all. There was too much to explain at one time. Who the people were, where they were going and all. Also, starting there didn't tell enough about John Russell.
He is the person this story is mainly about. If it had not been for him, we would all be dead and there wouldn't be anybody telling this. So I will begin with the first time I ever saw John Russell. I think you will see why after you learn a few things about him. Three weeks went by before I saw him again and that was the day the coach left Sweetmary. It was in the afternoon, right after they had brought the McLaren girl over from Fort Thomas.
Some things, especially concerning the McLaren girl and also some of my ideas about John Russell at the time, are embarrassing to put on paper. But I was advised to imagine I was telling it to a good friend and not worry about what other people might think. Which is what I have done. If there's anything anybody wants to skip, like innermost thoughts in places, just go ahead.
As for the title, it could be called any one of John Russell's names; he had more than one as you will see. But I think Hombre, which Henry Mendez and others called him sometimes and just means man, is maybe the best.
For the record, the day the coach left Sweetmary was Tuesday, August 12, 1884. Figure back three weeks if you want to know what day I first met John Russell. It was not at Sweetmary, but at Delgado's Station.
Carl Everett Allen
Contention, Arizona
| Hombre |


---