Book: The Gravedigger`s Daughter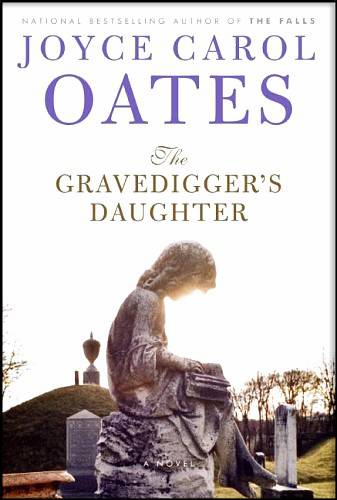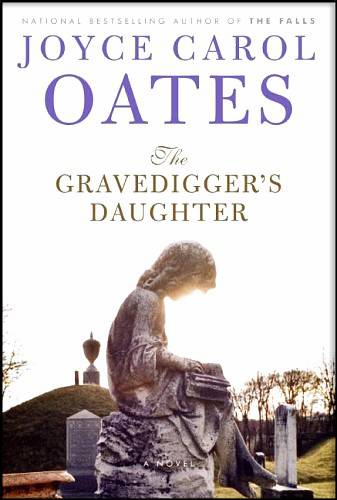 The Gravedigger's Daughter
"In animal life the weak are quickly disposed of."
He'd been dead for ten years. Buried in his mangled parts for ten years. Unmourned for ten years. You would think that she, his adult daughter, a man's wife now and the mother of her own child, would be rid of him by now. God damn she had tried! She hated him. His kerosene eyes, his boiled-tomato face. She gnawed her lips raw hating him. Where she was most vulnerable, at work. On the assembly line at Niagara Fiber Tubing where the noise lulled her into a trance she heard him. Where her teeth rattled from the conveyor belt vibrations she heard him. Where her mouth tasted like dried cow shit she heard him. Hated him! Turning in a crouch thinking it might be a joke, a crude trick, one of her asshole co-workers shouting into her ear. Like some guy's fingers poking her breasts through the coveralls or digging into her crotch and she's paralyzed unable to turn her attention away from the strips of tubing on the rubber belt moving jerkily along and always faster than you wanted. Damned steamed-up goggles hurting her face. Shutting her eyes breathing the foul dusty air through her mouth which she knew better than to do. An instant of shame, soul-withering, live-or-die-what-the-hell that came over her sometimes in moments of exhaustion or sorrow and she groped for the object on the belt that in that instant had no name, no identity, and no purpose, risking her hand being hooked by the stamping machine and half the fingers smashed before she could shake her head free and clear of him who spoke calmly knowing he would be heard above the machine clatter. "So you must hide your weak ness, Rebecca." His face close to hers as if they were conspirators. They were not, they had nothing in common. They looked in no way alike. She hated the sour smell of his mouth. That face that was a boiled, burst tomato. She'd seen that face exploding in blood, gristle, brains. She'd wiped that face off her bare forearms. She'd wiped that face off her own damn face! She'd picked that face out of her hair. Ten years ago. Ten years and almost four months to the day. For never would she forget that day. She was not his. She had never been his. Nor had she belonged to her mother. You could discern no resemblance among them. She was an adult woman now twenty-three years old which astonished her, she had lived so long. She had survived them. She was not a terrified child now. She was the wife of a man who was a true man and not a sniveling coward and a murderer, and this man had given her a baby, a son, whom he, her dead father, would never see. What pleasure that gave her, he would never see his grandson. Never utter his poison-words into the child's ears. Yet still he approached her. He knew her weakness. When she was exhausted, when her soul shrank to the size of a wizened grape. In this clamorous place where his words had acquired a powerful machine rhythm and authority that beat beat beat her into stunned submission.
"In animal life the weak are quickly disposed of. So you must hide your weakness, Rebecca. We must."
1
One afternoon in September 1959 a young woman factory worker was walking home on the towpath of the Erie Barge Canal, east of the small city of Chautauqua Falls, when she began to notice that she was being followed, at a distance of about thirty feet, by a man in a panama hat.
A panama hat! And strange light-colored clothes, of a kind not commonly seen in Chautauqua Falls.
The young woman's name was Rebecca Tignor. She was married, her husband's name Tignor was one of which she was terribly vain.
"Tignor."
So in love, and so childish in her vanity, though not a girl any longer, a married woman a mother. Still she uttered "Tignor" a dozen times a day.
Thinking now as she began to walk faster He better not be following me, Tignor won't like it.
To discourage the man in the panama hat from wishing to catch up with her and talk to her as men sometimes, not often but sometimes, did, Rebecca dug the heels of her work shoes into the towpath, gracelessly. She was nerved-up anyway, irritable as a horse tormented by flies.
She'd almost smashed her hand in a press, that day. God damn she'd been distracted!
And now this. This guy! Sent him a mean look over her shoulder, not to be encouraged.
No one she knew?
Didn't look like he belonged here.
In Chautauqua Falls, men followed her sometimes. At least, with their eyes. Most times Rebecca tried not to notice. She'd lived with brothers, she knew "men." She wasn't the shy fearful little-girl type. She was strong, fleshy. Wanting to think she could take care of herself.
But this afternoon felt different, somehow. One of those wan warm sepia-tinted days. A day to make you feel like crying, Christ knew why.
Not that Rebecca Tignor cried. Never.
And: the towpath was deserted. If she shouted for help…
This stretch of towpath she knew like the back of her hand. A forty-minute walk home, little under two miles. Five days a week Rebecca hiked the towpath to Chautauqua Falls, and five days a week she hiked back home. Quick as she could manage in her damn clumsy work shoes.
Sometimes a barge passed her on the canal. Livening things up a little. Exchanging greetings, wisecracks with guys on the barges. Got to know a few of them.
But the canal was empty now, both directions.
God damn she was nervous! Nape of her neck sweating. And inside her clothes, armpits leaking. And her heart beating in that way that hurt like something sharp was caught between her ribs.
"Tignor. Where the hell are you."
She didn't blame him, really. Oh but hell she blamed him.
Tignor had brought her here to live. In late summer 1956. First thing Rebecca read in the Chautauqua Falls newspaper was so nasty she could not believe it: a local man who'd murdered his wife, beat her and threw her into the canal somewhere along this very-same deserted stretch, and threw rocks at her until she drowned. Rocks! It had taken maybe ten minutes, the man told police. He had not boasted but he had not been ashamed, either.
Bitch was tryin to leave me, he said.
Wantin to take my son.
Such a nasty story, Rebecca wished she'd never read it. The worst thing was, every guy who read it, including Niles Tignor, shook his head, made a sniggering noise with his mouth.
Rebecca asked Tignor what the hell that meant: laughing?
"You make your bed, now lay in it."
That's what Tignor said.
Rebecca had a theory, every female in the Chautauqua Valley knew that story, or one like it. What to do if a man throws you into the canal. (Could be the river, too. Same difference.) So when she'd started working in town, hiking the towpath, Rebecca dreamt up a way of saving herself if/when the time came.
Her thoughts were so bright and vivid she'd soon come to imagine it had already happened to her, or almost. Somebody (no face, no name, a guy bigger than she was) shoved her into the muddy-looking water, and she had to struggle to save her life. Right away pry off your left shoe with the toe of your right shoe then the other quick! And then-She'd have only a few seconds, the heavy work shoes would sink her like anvils. Once the shoes were off she'd have a chance at least, tearing at her jacket, getting it off before it was soaked through. Damn work pants would be hard to get off, with a fly front, and buttons, and the legs kind of tight at the thighs, Oh shit she'd have to be swimming, too, in the direction the opposite of her murderer…
Christ! Rebecca was beginning to scare herself. This guy behind her, guy in a panama hat, probably it was just coincidence. He wasn't following her only just behind her.
Not deliberate only just accident.
Yet: the bastard had to know she was conscious of him, he was scaring her. A man following a woman, a lonely place like this.
God damn she hated to be followed! Hated any man following her with his eyes, even.
Ma had put the fear of the Lord in her, years ago. You would not want anything to happen to you, Rebecca! A girl by herself, men will follow. Even boys you know, you can't trust.
Even Rebecca's big brother Herschel, Ma had worried he might do something to her. Poor Ma!
Nothing had happened to Rebecca, for all Ma's worrying.
At least, nothing she could remember.
Ma had been wrong about so many damn things…
Rebecca smiled to think of that old life of hers when she'd been a girl in Milburn. Not yet a married woman. A "virgin." She never thought of it now, all that was past. Niles Tignor had rescued her. Niles Tignor was her hero. He'd taken her from Milburn in his car, they'd eloped to Niagara Falls. Her girlfriends had been envious. Every girl in Milburn adored Niles Tignor from afar. He'd brought his bride Rebecca then to live in the country east and a little north of Chautauqua Falls. Four Corners, it was called.
Their son Niles Tignor, Jr. had been born here. Niley would be three years old, end of November.
She was vain of being Mrs. Tignor, and she was vain of being a mother. Wanting to shout at the man in the panama hat You have no right to follow me! I can protect myself.
It was so. Rebecca had a sharp piece of scrap metal in her jacket pocket. In secret, nervously she was fingering it.
If it's the last thing I do mister I WILL MARK YOU.
In school in Milburn, Rebecca had had to fight sometimes. She was the town gravedigger's daughter, other kids taunted her. She had tried to ignore them, best as she could. Her mother had so advised her. But you must not stoop to their level Rebecca. She had, though. Frantic flailing and kicking fights, she'd had to defend herself. Damn bastard principal had expelled her, one day.
Of course she had never attacked another. She had never hurt any of her classmates not really, even the ones who'd deserved to be hurt. But she didn't doubt that if she was desperate enough fighting for her life she could hurt another person, bad.
Ah! the point of the steel was sharp as an ice pick. She would have to stab it deep into the man's chest, or throat…
"Think I can't do it, asshole? I can."
Rebecca wondered if the man in the panama hat, a stranger to her, was someone Tignor knew. Someone who knew Tignor.
Her husband was in the brewery business. He was often on the road for days, even weeks. Usually he appeared to be prospering but sometimes he complained of being short of cash. He spoke of the business of brewing, marketing, and delivering beer and ale to retailers through New York State as cutthroat competitive. The way Tignor spoke, with such zest, you were made to think of slashed and bleeding throats. You were made to think that cutthroat competitive was a good thing.
There were rivalries in the brewery business. There were unions, there were strikes and layoffs and labor disputes and picketing. The business employed men like Niles Tignor, who could handle themselves in difficult situations. Tignor had told Rebecca that there were enemies of his who would never dare approach him-"But a wife, she'd be different."
Tignor had told Rebecca that he would murder with his bare hands anyone who approached her.
The man in the panama hat, Rebecca wanted to think, did not really look like a man in the brewery business. His sporty straw hat, tinted glasses, and cream-colored trousers were more appropriate for the lakeshore in summer than the industrial edge of Chautauqua Falls in autumn. A long-sleeved white shirt, probably high-quality cotton or even linen. And a bow tie. A bow tie! No one in Chautauqua Falls wore bow ties, and certainly no one of Tignor's acquaintance.
It was like seeing Bing Crosby on the street, or that astonishing agile dancer: Fred Astaire. The man in the panama hat was of that type. A man who didn't look as if he would sweat, a man who might smile if he saw something beautiful, a man not altogether real.
Not a man to track a woman into a desolate place and accost her.
(Was he?)
Rebecca was wishing it wasn't so late in the afternoon. In full daylight, she would not feel so uneasy.
Each day now in September, dusk was coming earlier. You took notice of the days shortening, once Labor Day was past. Time seemed to speed up. Shadows rose more visibly from the underbrush beside the canal and the snaky-glittery dark water like certain thoughts you try to push away except in a weak time you can't. The sky was massed with clouds like a fibrous substance that has been squeezed, and then released. There was a strange quivering malevolent livingness to it. Through the cloud-mass, the sun appeared like a fierce crazed eye, that glared, and made each grass blade beside the towpath distinct. You saw too vividly, your eyes dazzled. And then, the sun disappeared. What had been distinct became blurred, smudged.
Heavy thunderheads blowing down from Lake Ontario. Such humidity, flies were biting.
Buzzing close to Rebecca's head, so she gave little cries of disgust and alarm, and tried to brush them away.
At Niagara Tubing, the air had been sultry hot as in midsummer. Stifling at 110° F. Windows opaque with grime were shoved at a slant and half the fans broken or so slow-moving they were useless.
It was only temporary work, at Niagara Tubing. Rebecca could bear it for another few months…
Punching in at 8:58 A.M. Punching out at 5:02 P.M. Eight hours. Five days a week. You had to wear safety goggles, gloves. Sometimes a safety apron: so heavy! hot! And work shoes with reinforced toes. The foreman inspected them, sometimes. The women.
Before the factory, Rebecca had worked in a hotel: maid, she was called. She'd had to wear a uniform, she had hated it.
For eight hours, Rebecca earned $16.80. Before taxes.
"It's for Niley. I'm doing it for Niley."
She wasn't wearing a watch, never wore a watch at Niagara Tubing. The fine dust got into a watch's mechanism and ruined it. But she knew it was getting on toward 6 P.M. She would pick up Niley at her neighbor's house just after 6 P.M. No son of a bitch trailing her on the towpath was going to prevent her.
Preparing herself to run. If, suddenly. If he, behind her. She knew of a hiding place somewhere ahead, on the other side of the canal embankment, not visible from the towpath, a foul-smelling culvert: made of corrugated sheet metal, a tunnel about twelve feet in depth, five feet in diameter, she could duck and run through it and into a field, unless it was a marsh, the man in the panama hat would not immediately see where she'd gone and if he did, he might not want to follow her…
Even as Rebecca thought of this escape route, she dismissed it: the culvert opened into a fetid marsh, an open drainage field, if she ran into it she would stumble, fall…
The towpath was an ideal place to track a victim, Rebecca supposed. You could not see beyond the embankments. The horizon was unnaturally close. If you wished to see the sky from the towpath you had to look up. Had to lift your head, crane your neck. On their own, your eyes did not naturally discover the sky.
Rebecca felt the injustice, he had followed her here! Where always she was relieved, grateful to be out of the factory. Always she admired the landscape, though it was slovenly, a wilderness. Always she thought of her son, eagerly awaiting her.
She knew: she must not weaken. She must not show her fear.
She would turn and confront him, the man in the panama hat. She would turn, hands on her hips, Tignor-style she would stare him down.
She mouthed the words she would say to him: "You! Are you following me?"
Or, "Hey mister: not following me, are you?"
Or, her heart quickened in hatred, "God damn you, who are you to follow me?"
She was not a shy young woman, and she was not weak. Not in her body, or in her instincts. She was not a very feminine woman. There was nothing soft, pliant, melting about her; rather she believed herself hard, sinewy. She had a striking face, large deep-set very dark eyes, with dark brows heavy as a man's, and something of a man's stance, in confronting others. In essence, she despised the feminine. Except, there was her attachment to Tignor. She did not wish to be Tignor, but only to be loved by Tignor. Yet Tignor was not an ordinary man, in Rebecca's judgment. Otherwise, she despised the weakness of women, deep in her soul. She was ashamed, infuriated. For this was the ancient weakness of women, her mother Anna Schwart's weakness. The weakness of a defeated race.
At the factory, men let her alone, usually. Knowing she was married. Seeing she gave no signals to welcome their interest. She never met their eyes. What thoughts they might have of her, she did not consider.
Yet: the week before she had had to confront a smirking asshole who was always passing close behind her as she stood at the assembly line, a man who eyed her up-and-down to embarrass her, she'd told him to leave her alone God damn she would complain to the foreman but in the midst of the rush of words she had suddenly swallowed and her voice choked and the smirking asshole just grinned at her. Mmmm baby! I like you.
Yet she would not quit the factory. Damned if she would quit.
Since March she'd been working at Niagara Tubing. Assembly line, unskilled labor. Still the factories paid better than most other jobs for women-waitress, cleaning woman, salesclerk. You had no need to smile at customers, to be "nice." The work was only just temporary she'd told her friend Rita, who also worked on the line at Niagara Tubing, and Rita had laughed saying sure, Niagara Tubing was just temporary for her, too. "Going on seven years."
This foreshortened horizon, it made you anxious because you couldn't plot an escape route. Into underbrush? There were briars, wild rose, tangles of poison ivy. Into the trees? And out of sight of the towpath, where anything might happen?
The bridge at the Poor Farm Road was at least a mile away. How many minutes, she couldn't estimate: twenty? And she could not run. She wondered what would happen during those twenty minutes.
The canal surface rippled like the hide of a great slumbering beast whose head you could not see. Only its length, stretching to the horizon.
Except there was no horizon ahead, really. The canal faded into a shadowy haze in the distance. Like train tracks where your eyes trick you into thinking that the tracks narrow, shrink in upon themselves and disappear as if running out of the present time and into a future you can't see.
Hide your weakness. Can't remain a child forever.
She was hardly a child. She was a married woman, a mother. She had a job at Niagara Fiber Tubing in Chautauqua Falls, New York.
She was not a minor dependent upon the charity of adults. She was not a ward of the county living in Milburn. The gravedigger's daughter to be pitied.
These were boom times in American industry, post-war. So you were told. So it seemed. Factories working to capacity in Chautauqua Falls as in other cities and towns in upstate New York where the largest and most prosperous city was Buffalo. All day long the sky of the Chautauqua Valley was streaked with two kinds of cloud: the natural, horizontal clouds and the vertical columnar clouds of factory smoke. Distinctive hues they were, rising from identical smokestacks. Always you could recognize the steely-powder rubbery-smelling smoke erupting upward from Niagara Fiber Tubing.
At work she wore her long thick hair coiled in loose braids around her head, covered with a head scarf. Yet when she brushed it out it smelled of the factory anyway. Her hair that had been beautiful glossy black, gypsy-hair Tignor called it, was becoming dry and brittle and corroded like iron. She was only twenty-three and already she was discovering gray hairs! And her fingers were calloused, her nails discolored, though she wore work gloves on the job. The heavy safety goggles left a pale imprint on her face and dents on the sides of her nose.
She was a married woman, why was this happening to her!
Tignor had been crazy for her once. She didn't want to think that time had passed.
He had not liked her pregnant. Belly swollen big and tight as a drum. Pale blue veins visible in her flesh looking as if they might burst. Her ankles, feet swollen. Her breath short. The heat of her skin that was a strange sexual heat, a fever that repelled a man.
She was tall, five feet eight. She weighed about 115 pounds. Pregnant with Niley, she'd weighed 140. Strong as a horse Tignor had said of her.
The man behind her would be led to think Rebecca was a tough woman, she thought. The kind of woman to fight back.
She wondered if he knew her, in some way. And so maybe he knew she was living alone with her son. Living in an old remote farmhouse in the country. But if he knew these facts, he might also know that Rebecca's son was watched during weekdays by a neighbor; and if Rebecca was late picking him up, if Rebecca failed to appear, Mrs. Meltzer would guess that something had happened to her.
But how long a time would pass, before Mrs. Meltzer called the police?
The Meltzers were not likely to call the police if they could avoid it. Any more than Tignor would call the police. What they would do is go out looking for you. And not finding you, they'd decide what to do next.
How long this would require: maybe hours.
If she'd brought the bread knife from home. That morning. The towpath was a desolate place. If Tignor knew, his wife walking along the canal like a tramp. Sometimes there were derelicts hanging out in the railroad yard. Solitary fishermen at the bridge over the canal. Solitary men.
If the canal wasn't so beautiful, she wouldn't be drawn to it. In the morning the sky was likely to be clear and so the surface of the canal appeared clear. When the sky was heavy and leaden with clouds, the surface of the canal appeared opaque. Like you could walk on it.
How deep the canal was exactly, Rebecca didn't know. But it was deep. Over a man's head. Twenty feet? Couldn't hope to save yourself by wading out. The banks were steep, you'd have to lift yourself soaking wet out of the water by the sheer strength of your arms and if somebody was kicking at you, you were doomed.
She was a strong swimmer! Though since Niles, Jr. she had not swum. She feared discovering that her body had lost its girlish buoyancy, its youth. Ignominiously she would sink like a rock. She feared that truth-telling you confront in water over your head exerting your arms and legs to keep afloat.
She turned abruptly and saw: the man in the panama hat, at about the same distance behind her. He wasn't trying to catch up with her, at least. But he did seem to be following her. And watching her.
"You! Better leave me alone."
Rebecca's voice was sharp, high-pitched. It didn't sound like her own voice at all.
She turned back, and walked faster. Had he actually smiled? Was he smiling at her?
A smile can be taunting. A smile like her own, deceased father's smile. Mock-eager. Mock-tender.
"Bastard. You have no right…"
Rebecca remembered now, she'd seen this man the previous day.
At the time she'd taken little notice. She'd been leaving the factory at the end of her shift, 5 P.M., with a crowd of other workers. If she'd noticed the man in the panama hat, she'd have had no reason to suppose he was interested in her.
Today, his following her, might be random. He couldn't know her name-could he?
Her mind worked swiftly, desperately. It was possible that the stranger had simply chosen a woman to follow at random. He'd been in the vicinity of the factory as a hunter awaits prey, alert to any possibility. Or, what was equally plausible: he had been waiting for someone else but she had not turned up or, if she had, it wasn't practical for him to follow her at that time.
Her heart beat in fury. Yet she was frightened.
"My husband will kill you…"
She didn't want to think that this man might know Tignor. That he had a score to settle with Tignor. One of those guys that think they know me.
You never knew, with Tignor, what such a remark meant. That he had true enemies, or that there were men, unidentified, unreasonable, who believed they were his enemies.
One of those guys, they'd like to cut off my balls.
Tignor laughed, saying such things. He was a man who thought well of himself and his laughter was quick and assured.
Futile for Rebecca to ask what he meant. Tignor never answered a question directly, and especially not from a woman.
"No right! No right to follow me! Fucker."
In her right-hand pocket Rebecca stroked the piece of steel.
She'd had the impression that the man, the stranger, had made a gesture to take off his hat.
Had he smiled?
She was weak with doubt, suddenly. For he'd made no threatening gesture toward her. He hadn't called to her as a man might do, to unnerve her. He had made no move to catch up with her. She might be imagining danger. She was thinking of her little boy waiting for her and of how she wanted desperately to be with him to console both him and herself. At the treeline a crazed-eye sun appeared briefly between massed clouds and she thought, with the eagerness with which a drowning woman might reach for something to haul her up His clothes.
Trousers of some unlikely cream-colored fabric. A white, long-sleeved shirt and a bow tie.
It seemed to her, the man in the panama hat possessed a light floating quality, a hopefulness, not like the mean concentrated look of a man who wants to sexually humiliate or hurt a woman.
"Maybe he lives out here. He's just walking home, like me."
The towpath was a public place. It was possible he was taking the identical shortcut Rebecca was taking. She'd just never seen him before. Parallel with the canal was the asphalt Stuyvesant Road and a half-mile ahead was the gravel Poor Farm Road that crossed the canal on a single-lane wooden bridge. At the juncture of the roads was a small settlement, Four Corners. A storefront post office, a general store with a large Sealtest sign in the window, Meltzer's Gas & Auto Repair. An operating granary, an old stone church, a cemetery. Rebecca's husband had rented a ramshackle farmhouse here, for her second pregnancy.
They'd lost the first baby. Miscarriage.
Nature's way of correcting a mistake the doctor had told her, to suggest maybe it had not been a bad thing…
"Fuck it."
Rebecca was thinking she should have taken off her jacket, soon as she'd left work. Now, it was too late. Couldn't make any move like that, taking off an item of clothing with that bastard behind her watching. A signal, he'd interpret it. Sure. She could feel him watching her ass, her hips, legs as she walked fast guessing she wanted badly to start running but didn't dare.
It was like a dog: turn your back, start running, he's on you.
Fear has a smell. A predator can smell it.
When she'd seen this man the previous day, he hadn't been wearing a hat. He'd been standing across the street from the factory gate, leaning back against a wall beneath an awning. In that short block were a café, a shoe repair, a butcher shop, a small grocery. The man had been lounging between the café and the shoe repair. There were many people around, this was a busy time of day. Rebecca wouldn't have taken the slightest notice of him except now, she was forced to.
Remembering backward is the easy thing. If you could remember forward, you could save yourself…
Traffic was always congested at 5 P.M. when the factories let out. Niagara Tubing, Empire Paper Products, Arcadia Canning Goods, Chautauqua Sheet Metal. A block away, Union Carbide Steel, the city's largest employer. Hundreds of men and women working the day shift erupted out onto the streets, as if released from hell.
Bats out of hell, it was an apt expression.
Whenever Rebecca left Niagara Tubing, she looked for Tignor out on the street. When he'd been gone for a while she lived in a state that might be defined as waiting-for-Tignor and involuntarily, without knowing what she did, she sought his tall broad figure in any public place. She was hopeful of seeing him yet dreaded seeing him for she never knew what emotions she might feel nor could she guess what Tignor might be feeling. Twice since March he had re-entered her life in this way: casual-seeming, parked in his car, a 1959 silver-green Pontiac, at the curb waiting for her as if his absence from her and their son-days, weeks, most recently five weeks in succession-was no more than something Rebecca had imagined. He would call out, "Hey babe: here."
He would signal her to come to him. And she would.
Twice, she had. It was shameful but it was so. Seeing Tignor smiling at her, signaling her, she'd hurried to him. You would think if you'd seen them that a husband was picking up his wife after work, as so many wives picked up their husbands.
"Hey kid, calm down. People are watching."
Or he'd say, "Gimme a kiss, babe. I miss you."
But Tignor had not been there. Not the day before, and not today.
Vaguely Rebecca was expecting a call from him on Sunday. Or so she told herself. Last thing she knew of Tignor he'd been up in Port au Roche at the Canadian border on Lake Champlain where he owned or co-owned property: a hotel, a tavern, maybe a marina. Rebecca had never seen Port au Roche but she understood that it was a resort town, far more beautiful than Chautauqua Falls at this time of year, and always ten degrees cooler. It was not reasonable to blame a man for preferring Lake Champlain to Chautauqua Falls.
Not Tignor but someone else, Rita had nudged Rebecca to notice.
"Lookit the hotshot. Who's he?"
A stranger, maybe mid-thirties, lounging beneath the awning across the street. He hadn't been wearing cream-colored trousers but he'd been quirkily well dressed. A striped sport coat, beige trousers. Gray-blond hair that was crimped-looking and tinted glasses that gave him a movie-actor flair.
Eight hours on the line yet Rita still felt, or wished to give the impression that she felt, an avid if derisive sexual interest in an attractive stranger.
"Ever seen him before?"
"No."
Rebecca had no more than glanced at the man. She had no interest in whoever it was.
If not Tignor, no one.
This afternoon she'd left the factory alone. She had not wanted to look for Tignor on the street knowing he wouldn't be there, yet she had looked, her eyes glancing swiftly about, snatching at male phantom-figures. Almost it was relief she felt, not seeing him.
For she'd come to hate him, he had so lacerated her heart.
Her pride, too. Knowing she should leave Tignor, take the child and simply leave him. Yet lacking the strength.
Love! It was the supreme weakness. And now the child who was the bond between them, forever.
She'd yanked off the damn sweaty kerchief and stuffed it into her pocket. A rivulet of sweat at the nape of her neck like an insect crawling. Quickly she walked away. The factory fumes made her sick.
A block away was the Buffalo & Chautauqua railroad yard, through which she cut to get to the canal. She knew the way so well by now, she scarcely had to look up. Hadn't noticed a man behind her until she was partway through the yard and then it was purely chance.
Out of place, in his city clothes. In the panama hat. Making his way so deliberately through the railroad yard between boxcars smelling of cattle and chemical fertilizers.
Who is he! And why, here!
It was rare, but sometimes you'd see a man or men in suits, in the railroad yard. In the streets near the factories. Never knew who they were except they were in charge, they'd come to the site in new-model cars and they were usually inspecting something or engaged in earnest conversations with one another and they wouldn't be out-of-doors long.
This one, in the panama hat, appeared different, though. He didn't seem to know where he was going, exactly. Crossing the weedy terrain as if his shoes hurt him.
Rebecca walked ahead, knowing where she was going. Through oil-splotched weeds, concrete broken like jagged ice chunks. Sure-footed as a mountain goat.
Each day at Niagara Tubing was like the first: raw, clamorous, suffocating. Airless air stinking of burnt fibres. You got used to the noise by deadening yourself against it, like a paralyzed limb. No solitude. No privacy except in the lavatory and there you could not stay long, the smells were even worse. How many days she'd clocked since March first and each week managed to save as much as she could, a few dollars, a handful of change, in a secret cache in the house for her and the child if ever there was an emergency.
Worse-come-to-worst was the expression. A married woman saves in secret, not in a bank but somewhere in her house, for that day of reckoning worse-come-to-worst.
Rebecca leapt over a drainage ditch. Pushed through a torn chain-link fence. Always at this point as she neared the canal, and the outskirts of town, she began to feel better. The towpath was usually deserted, the air would be cooler. A smell of the canal, and that earthy-rotted smell of leaves. She was a country girl, she'd grown up tramping the fields, woods, country roads of Milburn ninety miles to the east, always she felt exhilarated at such times. She would arrive at Mrs. Meltzer's and there Niley would be waiting for her crying Momma! running at her with a look of such pained love, she could scarcely bear it.
It was at this moment, by chance, she happened to see: the odd-looking man in the panama hat, a stranger to her, appeared to be headed in the same direction in which she was headed. She had no reason to think that he might be following her, or that he was even aware of her. But she saw him, at this moment.
She saw, and chose to ignore the fact.
She crossed another ditch, that emitted a foul odor like sulphur. Nearby in the railroad yard, boxcars were being uncoupled: the noise came in sharp scimitar blows. She was thinking, in that way that isn't precisely thinking, not deliberate and not purposeful, that the man in the panama hat, dressed as he was, would turn back soon. He wasn't the type to walk here, on these paths used mostly by boys and derelicts.
Tignor wouldn't like her tramping about like this, either. Like her mother years ago. But Tignor didn't know, as Anna Schwart had not known all that Rebecca did, in secret.
Later Rebecca would recall how she'd halfway known, at this point, that it was risky to continue walking here, but she'd continued anyway. Once she descended the embankment and began walking along the towpath, she would probably be alone; and if the man in the panama hat really was following her, she wouldn't want to be alone. And so she had a choice: she could turn back abruptly, and run toward a side street nearby where children were playing; or she could continue to the towpath.
She didn't turn back. She continued on.
Not even thinking I have no need to be afraid of such a man, he isn't a man to frighten me.
Except: in resourcefulness and cunning, for she was the gravedigger's daughter after all, she took from a barrel of scrap metal a strip of steel about seven inches long, and an inch wide, and this she slipped into the right pocket of her khaki jacket. So quickly, she could not think that the man in the panama hat had seen her.
The piece of steel was sharp, all right. Except it lacked a handle, it resembled an ice pick.
If she had to use it, her hand would be cut. Yet she smiled thinking At least I will hurt him. If he touches me he will regret it.
Now the sky had darkened, it was nearly dusk. A sombre, sulky evening. There was no beauty in the canal now. Only at the horizon was the sun dimly visible like flame amid smoldering ashes.
The Poor Farm Road was a quarter-mile ahead: she could see the plank bridge. Her heart thudded heavily in her chest. She was desperate to get to the bridge, to climb up the embankment to the road, and to safety. She would run in the middle of the road to the Meltzers' house a half-mile away…
Then, the man in the panama hat made his move.
She heard a sound like breaking glass unexpected close behind her: footsteps in dried leaves. At once she panicked. She did not look back but ran blindly up the embankment. She clutched at briars, thistles, tall grasses to help pull herself up. She was desperate, terrified. In a flash came memories of trying to pull herself up onto fences, or roofs, as her brothers did so easily, and she could not. She heard the man behind her speak, he was calling after her, she began to fall, the incline was too steep. Her ankle twisted, she fell heavily. The pain was shocking, sickening. She had partly broken her fall with the fleshy edge of her right hand.
But she was fallen now, helpless. In that instant her vision darkened, like an eclipse of the sun. Of course she was a woman, this man sought her as a woman. He would be on her, now.
"Miss, wait! Excuse me! Please! I won't hurt you."
Rebecca was on her haunches, panting. The man in the panama hat approached her, with a pained expression. Cautiously, as one might approach a snarling dog.
"Don't! Don't come any nearer! Get away."
Rebecca fumbled for the piece of steel in her pocket. Her hand was bleeding, numbed. She could not force it into her pocket.
The man in the panama hat, seeing the expression in Rebecca's face, had stopped dead in his tracks. Concerned, he removed his tinted glasses to peer at her. There was the strange thing about him Rebecca would long remember: his curious, staring, naked eyes. They were eyes of wonderment, calculation, yearning. They appeared to have no lashes. Something about the right eye looked damaged, like a burnt-out filament in a lightbulb. The whites of both eyes were discolored as old ivory. He was a young-old man, a boyish demeanor in a creased face, weakly handsome, yet something fading about him, insubstantial. Rebecca saw, such a man could be no danger to her unless he had a weapon. And if he had a weapon, by now he would have shown it.
She was flooded with relief, what a fool she'd been to so misjudge this stranger!
He was saying, awkwardly, "Please forgive me! I didn't mean to frighten you. That was the last thing I mean, truly. Are you hurt, dear?"
Dear! Rebecca felt a tinge of contempt.
"No. I'm not hurt."
"But-may I help? You've twisted your ankle, I think."
He offered to help Rebecca to her feet, but Rebecca gestured for him to keep his distance. "Mister, I don't need your help. Get away."
Rebecca was on her feet, shakily. Her heart was still pounding. Her blood was up, she was furious with this man for having frightened her, humiliated her. She was furious with herself, even more. If anyone who knew her saw her cowering like this…She hated it, the way the stranger stared at her with his queer lashless eyes.
He said, suddenly, yet almost wistfully, "It's Hazel-yes? Hazel Jones?"
Rebecca stared at the man, not knowing what she'd heard.
"You are Hazel, aren't you? Yes?"
"Hazel? Who?"
""Hazel Jones.""
"No."
"But you look so like her. Surely you are Hazel…"
"I said no. Whoever it is, I am not."
The man in the panama hat smiled, tentatively. He was at least as agitated as Rebecca, and perspiring. His checked bow tie was crooked, and his long-sleeved shirt was damp, showing the unflattering imprint of his undershirt beneath. Such perfect teeth, they had to be dentures.
"My dear, you look so much like her-"Hazel Jones." I simply can't believe that there could be two young women, very attractive young women, looking so much alike, and living in the same region…"
Rebecca had limped back to the towpath. She tested her weight on the ankle, gauging if she could walk on it, or run. Her face was flushed with embarrassment. She brushed at her clothes, that had picked up crumbly loose dirt and burrs. How annoyed she was! And the man in the panama hat still staring at her, convinced she was someone she was not.
She saw that he'd removed the panama hat, and was turning it nervously in his hands. He had crimped-looking gray-blond hair that looked like a mannequin's hair, molded, hardly disturbed by the hat.
"I got to go now, mister. Don't follow me."
"Oh, but-wait! Hazel-"
Now the stranger was sounding just subtly reproachful. As if he knew, and she knew, that she was deceiving him; and he could not comprehend why. He was so clearly a well-intentioned man, and a gentleman, unaccustomed to being treated rudely, he could not comprehend why. Saying, courteously, with his air of maddening persistence: "Your eyes are so like Hazel's, and your hair has grown a little darker, I think. And your way of carrying yourself is a little harsher for which," he said hurriedly, "I am to blame, frightening you. It's just that I had no idea how to approach you, dear. I saw you on the street yesterday, I mean I believed it was you I had seen, Hazel Jones after so many years, and now today…I had to follow you."
Rebecca stared at him, deliberating. It did seem to her that this earnest man was telling the truth: the truth as he saw it. He was deceived, but didn't appear to be deranged. He spoke with relative calmness and his reasoning, granted the circumstances, was logical.
He thinks I am her, and I am lying.
Rebecca laughed, this was so unexpected! So strange.
She wished she could tell Tignor about it, when Tignor called. They might have laughed together. Except Tignor was inclined to be jealous, and you don't tell a man with such inclinations that you have been followed by another man wanting to think that you are another woman beloved by him.
"Mister, I'm sorry. I'm just not her."
"But…"
He was approaching her, slowly. Though she'd told him, warned him, to stay away. He seemed not to know what he did, and Rebecca wasn't fully aware, either. He did seem harmless. Hardly taller than Rebecca, and wearing brown oxford shoes covered in dust. The cuffs of his cream-colored trousers were soiled, too. Rebecca smelled a sweet cologne or aftershave. As he was a young-old man, so he was a weak-strong man, too. A man you misjudge as weak, but in fact he's strong. His will was that of a young coiled-up copperhead snake. You might think the snake was paralyzed with fear, in terror of being killed, but it was not; it was simply biding its time, preparing to strike. Long ago Rebecca's father Jacob Schwart the gravedigger of Milburn had been a weak-strong man, only his family had known of his terrible strength, his reptile will, beneath the meek-seeming exterior. Rebecca sensed a similar doubleness here, in this man. He was apologetic, yet not humble. Not a strain of humility in his soul. He thought well of himself, obviously. He knew Hazel Jones, he'd followed Hazel Jones, he would not give up on Hazel Jones, not easily.
Tignor would misjudge a man like this, for Tignor was affably blunt in his opinions, and never revised them. But this man was a man with money, and an education. Very likely, family money. He had a bachelor look, yet a cared-for look. His clothes were of good quality if now slightly rumpled, disheveled.
On his right hand he wore a gold signet ring with a black stone.
"I don't know why you deny me, Hazel. What I've done to so alienate you. I am Dr. Hendricks's son-you must recognize me."
He spoke half-wistfully, insinuatingly.
Rebecca laughed, she knew no one named Hendricks. Yet she said, as if to bait him, "Dr. Hendricks's son?"
"Father passed away last November. He was eighty-four."
"I'm sorry to hear that. But-"
"I'm Byron. You must remember Byron?"
"I'm afraid, no I don't. I told you."
"You were no more than twelve or thirteen! Such a young girl. I was just graduated from medical school. You perceived me as an adult. An abyss of a generation separated us. Now, the abyss is not so profound, is it? You must have wondered about us, Hazel. I am a doctor now, following my father's example. But in Port Oriskany, not in the Valley. Twice a year I return to Chautauqua Falls to see relatives, to look after family property. And to tend my father's grave."
Rebecca stood silent. Damn if she was going to respond to this!
Quickly Byron Hendricks continued, "If you feel that you were mistreated, Hazel…You, and your mother…"
"I told you no! I'm not even from Chautauqua Falls. My husband brought me here to live. I'm married."
Rebecca spoke hotly, impatiently. Wished she'd worn her ring to shove into this man's face. But she never wore her pretty ring at Niagara Tubing.
Byron Hendricks sighed. "Married!" He had not considered this, it seemed.
He said, "There is something for you, Hazel. Through his long and sometimes troubled life my father never forgot you. I realize it's too late for your poor mother, but…Will you take my card, at least, dear? If you should ever wish to contact me."
He handed her a small white business card. The neatly printed black letters seemed to Rebecca a rebuke of some kind.
Byron Hendricks, M. D.
General & Family Medicine
Wigner Building, Suite 414
1630 Owego Avenue
Port Oriskany, New York
tel. 693-4661
Rebecca said, furious, "Why the hell should I contact you?"
Rebecca laughed, and tore the card into small pieces, and tossed them down onto the towpath. Hendricks stared at her in dismay. His lashless myopic eyes quivered.
Rebecca turned, and walked away. Maybe it was a mistake: turning her back on this guy. He was calling after her, "I am so very sorry if I offended you! You must have a very good reason, dear, for such rudeness. I don't judge others, Hazel. I am a man of science and reason. I don't judge you. This newly harsh way of yours, this…hardness. But I don't judge."
Rebecca said nothing. She wasn't going to look back.
God damn, he'd scared her! She was shaking, still.
He was following her again, at a short distance. Persisting, "Hazel! I think I understand. You were hurt, or were told you were. And so you wish to hurt, in turn. As I said, dear-there is something for you. My father did not forget you in his will."
Rebecca wanted to press her hands over her ears. No, no!
"Will you call me someday, dear? In Port Oriskany? Or-come to see me? Tell me we are forgiven. And accept from me what Dr. Hendricks has left you, that is your legacy."
But Rebecca was now climbing the embankment to the road. A narrow, steep dirt path she knew well. Though she favored her ankle, she wasn't going to fall. Behind her Byron Hendricks remained, looking after her. He would be gripping his ridiculous panama hat in both hands, in a suppliant pose. Yet Rebecca had sensed the man's will, she shuddered to think of it. She'd had to pass so close to him, he might have reached out and grabbed her. The way he'd crept up behind her, only the dried leaves had warned her, she would remember for a long time.
In his will.
Legacy.
It was a lie, had to be. A trick. She did not believe a word of it. Almost, Rebecca wished that Hendricks had tried to touch her. She would have liked to stab him with the piece of steel, or to try.
"Mom-my!"
The child rushed at her as soon as she entered the Meltzers' kitchen, hugging her legs. His small careening body was electric with energy, excitement. His eyes were a feral animal's eyes, gleaming and fiery. Rebecca stooped to hug him, laughing. Yet she was trembling, too. His cry tore at her heart, she felt such guilt at being away from him. "Niley, you didn't think Mommy wasn't coming back, did you? I always do."
His relief at her arrival was absurd, hurtful. He wanted to punish her, she thought. And for Tignor's absence, he wanted to punish her. It was often like this. Damn she felt the injustice, she should be doubly punished by both the child and his father!
"Niley? You do know Mommy has to work, don't you?"
Niley shook his head stubbornly, no.
Rebecca kissed him. His fevered face.
Now she must endure being told by Edna Meltzer that Niley had been fretting through the day, demanding to listen to the radio and moving restlessly from window to window as soon as the sun passed behind the treeline, waiting for Mommy.
"He don't like the daylight shortening, he can tell it's getting on night faster. This winter, I don't know how he'll be." Mrs. Meltzer was frowning, fussing. Between her and Rebecca there was an air of muted tension, like a telephone dial humming. "Oh, that child would hang out on the road if I didn't watch him every minute," she laughed. "He'd trot along the canal to meet you like a lovesick little puppy if I let him."
Lovesick little puppy! Rebecca hated such flowery speech.
She hid her face against the child's warm neck and held him tight. Her heart beat in the aftermath of relief, that nothing had happened to her on the towpath, and no one would ever know.
She asked if Niley had been a good boy, or a naughty boy. She told him that if he'd been naughty the Great Spider would get him. He shrieked with laughter as she tickled his sides to weaken his grip on her legs.
Edna Meltzer observed, "You're in a good mood tonight, Rebecca."
Mrs. Meltzer was a stout, solid woman with billowing breasts and a sugary pudding face. Her manner was benign, maternal; yet always subtly accusing.
Shouldn't I be in a good mood? I'm alive.
"I'm out of that hellhole till tomorrow. That's why."
Rebecca smelled frankly of female sweat, her skin felt clammy-pale, feverish. Her eyes were bloodshot. She shied from Mrs. Meltzer observing her so closely. The older woman was wondering maybe if Rebecca had been drinking. A quick drink with co-workers in town instead of coming directly home? For she seemed excited, distracted. Her laughter was rather wild.
"Huh! What happened, hon, did you fall?"
Before Rebecca could draw away, Edna Meltzer took her right hand, and lifted it to the light. The fleshy edge of her hand had been chafed raw in the dirt, blood oozed out now in slow drops glistening like gems. There were thinner cuts on her fingers, that had barely bled, caused by the sharp piece of steel she'd been gripping in her pocket.
Rebecca drew her hand from the older woman's grasp. She murmured it was nothing, she didn't know what it was, no she had not fallen. She would have wiped her hand on her coverall except Edna Meltzer stopped her. "Better wash this, hon. You don't want to catch what's it-tet'nis."
Niley clamored to know what tet'nis was. Edna Meltzer told him it was something very bad that happened to you if you cut yourself out in the wild and didn't wash it very clean with good strong soap.
Rebecca washed her hands at the kitchen sink as Mrs. Meltzer insisted. She was flushed with annoyance for she hated to be told what to do. And in Niley's presence! Washing her damn hands like a child with a bar of grainy gray soap, 20 Mule Team was the brand name, a laborer's soap useful for removing dirt embedded in the skin, the nastiest dirt and grime. Edna Meltzer was married to Howie Meltzer, who owned the Esso station.
Rebecca's father had used such harsh soap to clean himself of grave-dirt. Except of course you can never clean yourself entirely of grave-dirt.
Excitedly Niley was crying, "Tet'nis! Tet'nis!" and crowded beside Rebecca, wanting to wash his hands, too. He was of an age when new words thrilled him as if they were gaily feathered birds flying about his head.
The windowpane above the sink had darkened. In it Rebecca could see Mrs. Meltzer observing her. Tignor disliked the Meltzers for no reason except they were friendly with his wife, in his absence. Rebecca was herself undecided whether she was very fond of Edna Meltzer, a woman of the age Rebecca's mother would have been if she hadn't died young, or whether in fact she resented her. Always so righteous, so maternal! Always telling Rebecca the young, inexperienced mother what to do.
Mrs. Meltzer had had five children. Out of that compact fleshy body, five babies. The thought made Rebecca feel faint. All the Meltzers' children were now grown and gone. Rebecca wondered how Edna Meltzer could bear it: having babies, loving them with such tenderness and ferocity, enduring so much on their behalf, and then losing them to time. It was like gazing into the sun, your eyes are blinded, so Rebecca could not comprehend a time when Niley would be grown and gone from her. Her little boy who so adored her and clung to her.
"Mom-my! Love you!"
"Mommy loves you too, honey. Not so loud, now!"
"He's been like that all day, Rebecca. Wouldn't settle down for a nap. Wouldn't hardly eat. We were outside in the garden, and what'd he want but the radio on the porch railing, turned up high so he could hear it." Mrs. Meltzer shook her head, laughing.
The child believed that certain radio broadcasters might be his father, their voices sounded like Tignor's voice. Rebecca had tried to explain to him that this was not so, but Niley had his own ideas.
"I'm sorry," Rebecca said, embarrassed. She was confused, and could not think what to say.
"Oh, it's nothing," Mrs. Meltzer said quickly. "You know what children are like, these things they "believe in," they don't really. Just like us."
Preparing to take Niley home, Rebecca heard herself ask casually if Mrs. Meltzer had ever heard of a person named Hazel Jones.
"Somebody lives around here? That's who she is?"
"She lives in Chautauqua Falls, I think."
But was that right? The man in the panama hat had possibly said that Hazel Jones had once lived in Chautauqua Falls, as a girl.
"Why're you asking? Who is she?"
"Oh, someone asked if that was my name."
But this, too, was inaccurate. The man who was Dr. Hendricks's son had asked if Rebecca was Hazel Jones. There was a significant difference.
"Asked if that was your name? Why'd anybody ask such a question?"
Edna Meltzer screwed up her broad fattish face, and laughed.
It was the response to anything out-of-the-ordinary by local standards: a derisive laugh.
Niley ran outside, letting the screen door slam. Rebecca would have followed him except Mrs. Meltzer touched her arm, to speak with her in a lowered voice. The younger woman felt a pang of revulsion for that touch, and for the forced intimacy between them. "Is Tignor expected home sometime soon, Rebecca? It's been a while."
Rebecca felt her face throb with heat.
"Has it!"
But Mrs. Meltzer persisted. "I think it has, yes. Weeks. And the child-"
Rebecca said, in her bright, blithe way, to forestall such intimacy, "My husband is a businessman, Edna. He travels, he's on the road. He owns property."
Rebecca pushed out the screen door blindly, and let it fall back. There was Niley running in the grass, flailing his hands and screeching in childish excitement. How healthy the little boy was, how like a self-possessed little animal! Rebecca resented this woman speaking to her, the child's mother, in such a tone. Inside the kitchen Mrs. Meltzer was saying, in her patient, prodding, maddening voice, "Niley keeps asking about "Daddy," and I don't know what to tell him."
"That's right, Edna," Rebecca said coldly. "You don't know. Good night."
Back in their place, a small two-storey farmhouse Tignor rented for them at the end of a dirt lane off the Poor Farm Road, Rebecca printed out the new word for Niley: T E T A N U S.
Even before she removed her sweaty clothes and washed the grime of Niagara Tubing off her body, and out of her matted hair, she looked up the word in her dictionary. A battered old Webster's it was, from the time when she'd lived in Milburn and gone to the grammar school there; she'd won it in a spelling bee, sponsored by a local newspaper. Niley was fascinated by the bookplate inside:
SPELLING CHAMPION MILBURN DISRICT #3
*** 1946 ***
REBECCA ESHTER SCHWART
For in that place and in that time she'd been her parents' daughter, bearing the name her father had taken in the New World: Schwart.
(Rebecca had not wanted to correct the misspelling of "Esther." She had not wanted to defile the handsome printed bookplate.)
From the time Niley was two, Rebecca began to look up words in the dictionary to spell out for him. She herself had not been encouraged to spell, to read, even to think until she'd been much older, but she did not intend to emulate her parents in the raising of her child. First, Rebecca carefully printed the word onto a sheet of stiff paper. Then Niley tried to imitate her. Gripping a crayon in his stubby child-fingers, and moving it with a fierce and unswerving concentration across the paper. Rebecca was struck by the child's deep mortification when his laboriously printed word failed to resemble Mommy's; as Niley was deeply mortified by other mishaps of his-spilling food, wetting his bed. Sometimes he burst into tears, and sometimes he was furious, kicking and whining. With his baby fists he struck out at Mommy. He struck his own face.
Rebecca quickly embraced him at such times. Held him tight!
She loved him passionately, as she loved his father. Yet she feared for him, he was developing something of his father's temper. But he was avid to learn, and in that way different from Tignor. In the past several months he'd astonished her, he'd become so captivated by alphabet letters and the way they connected into "words" and were meant to represent "things."
She'd been poorly educated herself. She'd never graduated from high school, her life had been interrupted. Sometimes she felt faint with shame, to think of all that she did not know and could not know and could not even fathom not-knowing for the very scope of her ignorance was beyond her ability to imagine. She saw herself stuck in a bog, quicksand to the ankles, to the knees.
This earth is a shit hole. Ignorance!-stupidity!-cruelty!-confusion! And madness over all, be sure.
Rebecca shuddered, remembering. His voice. The levity of his bitterness.
"Mom-my? Look."
Niley had printed, with excruciating slowness, T E T A N U S on a sheet of paper. He squinted up at her, anxious. He looked nothing like his father, certainly nothing like Rebecca's father. He had fine, fair-brown hair; his skin was fair as well, susceptible to rashes; his features were rather small, pinched. His eyes were like Rebecca's, deep-set and intense.
As usual Niley had slanted his letters oddly downward so that he ran out of space, the final letters had had to be crowded together-NUS. Rebecca smiled, Niley was so funny. As an infant he'd reminded her of a little monkey, wizen-faced, intense.
Running out of space on the sheet of paper might set off a temper tantrum, though. Rebecca quickly took away the paper, and provided another.
"O.K., sweetie! Let's both do "tetanus' again."
Eagerly Niley took up the red crayon. This time, he would do better.
Rebecca vowed: she would not make mistakes with her son at this time in his life. So young, before he began school. When a child is at the mercy of his parents almost exclusively. That was why Rebecca looked up words in the dictionary. And she had high school textbooks, too. To get things right. To get those things right that you could, amid so much that you could not.
A voice in Rebecca's ear harsh and urgent: "Jesus, watch out!"
She woke from her trance. She laughed nervously. Her right hand, bulky in the safety glove, had been trailing dangerously near the stamping machine.
She thanked whoever it was. Her face flushed with embarrassment, indignation. God damn it had been like this most of the morning: her mind trailing off, losing her concentration. Taking risks, like she'd just begun the job and didn't know by now how dangerous it could be.
Clamoring machines. Airless air. Heat tasting of singed rubber. Sweat inside her work clothes. And mixed with the noise was a new urgent sound she could not decode, was it hopeful, was it seductive, was it mocking. HAZEL JONES HAZEL JONES HAZEL JONES.
The foreman came by. Not to speak with Rebecca but to let her see him: his presence. Son of a bitch, she saw.
No one at Niagara Tubing knew much about her. Even Rita, who was her friend. They might have known that she was married, and some of them might have known to whom she was married, the name Niles Tignor was known in some quarters in Chautauqua Falls. All they knew of Rebecca was that she kept to herself. She had a stubborn manner, a certain stiff-backed dignity. She wouldn't take bullshit from anybody.
Even when she was tired to the point of dazedness. Unsteady on her feet and needing to use the lavatory, to splash tepid water on her face. It wasn't just the few women workers who became light-headed at Niagara Tubing but men, too. Veterans of many years on the line.
The first week she'd begun in the assembly room, Rebecca had been nauseated by the smell, the rapid pace, the noise. Noise-noise-noise. At such a decibel, noise isn't just sound but something physical, visceral, like electric current pumping through your body. It frightens you, it winds you tight, and tighter. Your heart is racing to keep pace. Your brain is racing but going nowhere. You can't keep a coherent thought. Thoughts spill like beads from a broken string…
She'd been terrified, she might go crazy. Her brain would break into pieces. You had to shout to be heard, shout in somebody's ear and people shouted in your ear, in your face. It was the raw, pulsing, primal life. There were no personalities here, no subtleties of the soul. The delicate soul of the child, like Niley, would be destroyed here. In the machines, in the hellhole of the factory, there was a strange primal life that mimicked the pulse-beat of natural life. And the living heart, the living brain, were overcome by this mock-life. The machines had their rhythm, their beat-beat-beat. Their noises overlapped with the noises of other machines and obliterated all natural sound. The machines had no words, only just noise. And this noise overwhelmed. There was a chaos inside it, though there was the mechanical repetition, a mock-orderliness, rhythm. There was the mimicry of a natural pulse-beat. And some of the machines, the more complicated, mimicked a crude sort of human thought.
Rebecca had told herself she could not bear it!
More calmly telling herself she had no choice.
Tignor had promised Rebecca she would not have to work, as his wife. He was a man of pride, easily offended. He did not approve of his wife working in a factory and yet: he no longer provided her with enough money, she had no choice.
Since summer, Rebecca was better adjusted. But, Christ she would never be adjusted.
It was only temporary work of course. Until…
He had looked at her with such certainty! HAZEL JONES.
Seeming to know her. Not Rebecca in her filth-stiffened work clothes but another individual, beneath.
He'd known her heart. HAZEL JONES HAZEL ARE YOU HAZEL JONES YOU ARE HAZEL JONES ARE YOU. In the long morning hours HAZEL JONES HAZEL JONES lulling, seductive as a murmurous voice in Rebecca's ear and in the afternoon HAZEL JONES HAZEL JONES had become a jeering din.
"No. I am not. God damn you leave me alone."
Him removing his glasses. Prissy tinted glasses. So she could see his eyes. How sincere he was, and pleading. The injured iris of one eye, like something burnt-out. Possibly he was blind in that eye. Smiling at her, hopeful.
"Like I was somebody special. "Hazel Jones.""
She had no wish to think about Hazel Jones. Still less did she want to think about the man in the panama hat. She'd have liked to scream into his face. Seeing again his shock, when she'd torn up his card. That gesture, she'd done right.
But why: why did she detest him?
She had to concede, he was a civilized man. A gentleman. A man who'd been educated, who had money. Like no one else she knew, or had ever known. And he'd made such an appeal to her.
He was kind-hearted, he meant to do right.
"Was it just I'm "Hazel Jones' or-maybe, it was me."
Remembered you. In his will.
Legacy.
"See, I am not her. The one you think I am."
Must remember me, Dr. Hendricks's son.
"I told you, I don't."
God damn she'd told him no, she'd been truthful from the start. But he'd kept on and on like a three-year-old insisting what could not be, was. He'd continued to speak to her as if he had heard yes where she'd been saying no. Like he was seeing into her soul, he knew her in some way she didn't know herself.
"Mister, I told you. I'm not her."
So tired. Late afternoon is when you're susceptible to accidents. Even the old-timers. You get slack, fatigued. SAFETY FIRST!-posters nobody glanced at anymore, so familiar. 10 SAFETY REMINDERS. One of them was KEEP YOUR EYES ON YOUR WORK AT ALL TIMES.
When Rebecca's vision began to waver inside the goggles, and she saw things as if underwater, that was the warning sign: falling asleep on her feet. But it was so…It was so lulling. Like Niley falling asleep, his eyelids closing. A wonderment in it, how human beings fall asleep same as animals. What is the person in personality and where does it go when you fall asleep. Niley's father Tignor sleeping so deeply, and sometimes his breath came in strange erratic surges she worried he might cease breathing, his big heart would cease pumping and then: what? He had married her in a "civil ceremony" in Niagara Falls. She'd been seventeen at the time. Somewhere, lost amid his things, was the Certificate of Marriage.
"I am. I am Mrs. Niles Tignor. The wedding was real."
Rebecca jerked her head up, quickly. Where'd she been…?
She poked her fingers inside the goggles, wiping her eyes. But had to take off her safety gloves first. So awkward! She wanted to cry in frustration… hurt. Or were told you were. I don't judge. He was watching her from the doorway, he was speaking about her with one of the bosses. She saw him, in the corner of her eye; she would not stare, and allow them to know that she was aware of them. He wore cream-colored clothes, and the panama hat. Others would glance at him, quizzically. Obviously, he was one of the owners. Investors. Not a manager, not dressed for an office. Yet he was a doctor, too…
Why'd Rebecca rip up his card! The meanness in her, taking after her gravedigger father. She was ashamed of herself, thinking of how he'd been shocked by her, and hurt.
Yet: he did not judge.
"Wake up. Girl, you better wake up."
Again Rebecca had almost fallen asleep. Almost got her hand mangled, left hand this time.
Smiled thinking crazily: the fingers on the left hand you would not miss so much. She was right-handed.
She knew: the man in the panama hat wasn't in the factory. She must have seen, in the blurry corner of her eye, the plant manager. A man of about that height and age who wore a short-sleeved white shirt, most days. No bow tie, and for sure no panama hat.
After work she would almost-see him again. Across the street, beneath the shoe repair awning. Quickly she turned away, walked away not looking back.
"He isn't there. Not Tignor, and now not him."
No one saw: she made sure.
Looking for pieces of Hendricks's card she'd ripped up. On the towpath she found a few very small scraps. Not certain what they were. Whatever was printed on them was blurred, lost.
"Just as well. I don't want to know."
This time, disgusted with herself, she squeezed the pieces into a pellet and tossed it out onto the canal where it bobbed and floated on the dark water like a water bug.
Sunday passed, and Tignor did not call.
To distract the restless child she began telling him the story of the man-on-the-canal-towpath. The man-with-the-panama-hat.
"Niley, this man, this strange man, followed me along the towpath, and guess what he said to me?"
The Mommy-voice was bright, vibrant. If you were to color it in crayons it was a bold sunny yellow tinged with red.
Niley listened eagerly, uncertain if he should smile: if this was a happy story, or a story to make him worry.
"Mommy, what man?"
"Just a man, Niley. Nobody we know: a stranger. But-"
""Stang-er'-"
""Stranger." Meaning somebody we don't know, see? A man we don't know."
Niley glanced anxiously about the room. (His cubbyhole of a bedroom with a slanted ceiling, that opened onto her bedroom.) He was blinking rapidly peering at the window. It was night, the single window reflected only the blurred undersea interior of the room.
"He isn't here now, Niley. Don't be afraid. He's gone. I'm telling you about a nice kind man, I think. A friendly man. My friend, he wants to be. Our friend. He had a special message for me."
But Niley was still anxious, glancing about. To capture his attention Mommy had to grip his little shoulders and hold him still.
A squirmy little eel, he was. She wanted to shake him. She wanted to hug him tight, and protect him.
"Mommy? Where?"
"On the canal towpath, honey. When I was coming home from work, coming to get you at Mrs. Meltzer's."
"Today, Mommy?"
"Not today, Niley. The other day."
It was later than usual, the child hadn't yet gone to bed. Ten o'clock and she'd only just managed to get him into his pajamas by making a game of it. Tugging off his clothes, his shoes, as he lay passive and not-quite-resisting. It had been a difficult day, Edna Meltzer had complained to Rebecca. At the delicate juncture of bones at the child's forehead Rebecca saw a nerve pulsing.
She kissed the nerve. She resumed her story. She was very tired.
The three-year-old had been too cranky to be bathed in the big tub, Mommy had had to struggle to wash him with a washcloth, and then not very well. He was too cranky to be read to. Only the radio would comfort him, that damned radio Rebecca would have liked to toss out the window.
"A man, a very nice man. A man in a panama hat-"
"Mommy, what? A banana hat?"
Niley laughed in disbelief. Rebecca laughed, too.
Why the hell had she begun telling this story, she couldn't imagine. To impress a three-year-old? Out of the crayon box she selected a black crayon to draw a stick-man and on the stick-man's silly round head with the yellow crayon she drew a banana hat. The banana was disproportionately large for the stick-man's head, and upright. Niley giggled and kicked and squirmed with pleasure. He grabbed at the crayons to draw his own stick-man with a tilted-over banana hat.
"For Dad-dy. Banana hat."
"Daddy doesn't wear a hat, sweetie."
"Why not? Why doesn't Daddy wear a hat?"
"Well, we can get Daddy a hat. A banana hat. We can make a banana hat for Daddy…"
They laughed together, planning Daddy's banana hat. Rebecca gave in to childish nonsense, she supposed it must be harmless. The things that child imagines!-Mrs. Meltzer shook her head, you could not determine if she was amused, or alarmed. Rebecca smiled, Rebecca shook her head, too. She worried that Niley wasn't developing as other children developed. His brain seemed to function like the jerky conveyor belt. His attention span was fierce but brief. You could not hope to follow through a line of thinking or of speaking, Niley had no patience for tales that went on for more than a few seconds. Unless you imposed your will upon the child, as Rebecca sometimes did, in exasperation. Otherwise the child led you wandering, stumbling. A blizzard of broken-off thoughts, snatches of misheard words. She felt at such times that she would drown in the child's small fevered brain, she was a tiny adult figure trapped in a child's brain.
She had wanted desperately to be a mother. And so she was a mother.
She had wanted desperately to be Niles Tignor's wife. And so she was Niles Tignor's wife.
These irrefutable facts she was trying to explain to the man in the panama hat who stood gazing at her with his small, hurt smile. His eyes were myopic, almost you could see the fine scrim of myopia over them, like scum on water. His gray-blond hair so curiously molded. Smile lines deep-etched in his face that was an old-young face, faded and yet strangely boyish, hopeful. He was a courteous man you could see, a gentleman. Convinced that the slatternly young woman in the factory clothes was lying to him yet appealing to her anyway.
A man of science and reason.
At least take my card.
If you should ever wish to…
In the telephone directory for the Greater Chautauqua Valley she looked up Jones. There were eleven Joneses all of them male, or initials which might mean male or female. Not a single woman, so designated. Not a single listing H. Jones.
This didn't surprise her. For obviously, Byron Hendricks must have consulted the directory, many times. He must have called some of these Joneses, in his search for Hazel Jones.
"Asshole! What a stupid thing to do."
One night Rebecca woke from sleep to the realization, that struck her like a punch to the gut, that she was a careless mother, a bad mother: she'd stuck away the makeshift weapon, the seven-inch piece of steel, in a bureau drawer, where Niley who was always rummaging through her things might find it.
She took it out, and examined it. The steel was nasty-looking but not so sharp, overall. She'd have had to stab desperately with it to defend herself.
Anyway, she'd been wrong about the man in the panama hat. He had not meant to hurt her, he'd only just confused her with someone else. Why she'd become so upset, she didn't know. She, Rebecca, was low, primitive in her suspicions.
Yet she didn't throw the piece of steel away, but wrapped it in a tattered old sweater of hers kept high on a closet shelf where Niley, and Tignor, would never find it.
Two nights later, Tignor called.
"Yes? Who is it?"
"Who'd you think, girl?"
He had that power: to render her helpless.
She sank onto a kitchen chair, suddenly weak. Somehow, Niley knew. Running from the other room crying, "Dad-dy? Dad-dy?"
Niley plunged into his mother's lap, hot, eel-like, quivering with excitement. His devotion for his father was ardent and unquestioning as a young puppy's for its master. Still, he knew not to snatch at the phone, as he wanted to; he knew he would speak with Daddy when Daddy was ready to speak with him, and not before.
Rebecca would recall afterward that she'd had no premonition that Tignor would call that night. Since falling in love with the man she had become superstitious, it was a weakness of love she supposed, even a skeptical mind is prey to omens, portents. But she had not expected to hear Tignor's voice on the other end of the line, she'd had no preparation.
Tignor was telling Rebecca he would be back, back with her and the boy, by the end of the week.
Tignor never said he'd be back home. Only just back with you and the boy.
Rebecca asked where Tignor was, was he still in Port au Roche?-but Tignor ignored the question. He never answered questions put bluntly to him. And his telephone voice was one of forced heartiness, jovial and impersonal as a radio announcer's voice.
Only in close quarters, was Tignor capable of intimacy. Only where he could touch, stroke, squeeze. Only when he made love to her, was Rebecca really certain that he was with her.
Physically, at least.
Telling her now there'd been a little trouble. But it was blown over now.
"Trouble? What kind of…?"
But Tignor wouldn't answer, Rebecca knew. It was some kind of business trouble, rivalry with another brewery maybe. She had not heard of any trouble, and so it was best to fall in with Tignor's tone. Blown over.
When Tignor was away, Rebecca kept a road map of New York state spread out onto the floor, to show Niley where Daddy was, or where Mommy believed Daddy was. She dreaded the child guessing that Mommy didn't always know. That Mommy might be misinformed. For Daddy's territory was vast, from Chautauqua Falls where they lived at the western edge of the state across the breadth of the state to the Hudson Valley, and north to the Adirondack Mountains and east to Lake Champlain where a town the size of Port au Roche was no more than a poppy-seed-sized dot on the map, even smaller than Chautauqua Falls.
Now, what was Tignor telling her? Something to make her laugh?
She understood: I must laugh.
This was important. Early on, in her relationship with Niles Tignor, she knew to laugh at his jokes, and to make jokes, herself. Nobody wants a heavy-hearted girl for Christ sake.
And: in the places Tignor frequented there were numerous girls and women vying with one another to laugh at his jokes. There always had been, before Rebecca had known Tignor, and there always would be, though he was her husband. She understood I am one of these. I owe it to him, to be happy.
"Niley, behave! Be good."
She whispered in the boy's ear, he was becoming impatient.
But Tignor was speaking to someone at the other end of the line. His hand over the receiver, she couldn't make out his words. Was he arguing? Or just explaining something?
How uncomfortable she was: in this chair, Niley squirming on her lap, her heart beating so hard it ached, snarly hair, damp from being washed, trailing down her back wetting her clothes.
She wondered what the man in the panama hat would think, seeing her. At least, he would recognize that she was a mother, and a wife. He would not confuse her with…
Tignor asked to speak with Niley. Rebecca handed over the phone.
"Dad-dy! H'lo Dad-dy!"
Niley's crunched-up little face came alive with pleasure. A child so suddenly happy, you understood there was anguish beforehand, pain. Rebecca staggered away, leaving him with the phone. She was dazed, exhausted. She stumbled into the next room, sank onto the sofa. A sofa with broken springs, covered with a not-clean blanket. A roaring in her ears like Niagara Tubing. Like the falls below the locks in Milburn, she'd stared into for long sickly fascinated minutes as a young girl.
Why could she not accuse Tignor of neglecting her. Why could she not tell Tignor she loved him even so, she forgave him.
He wasn't required to ask her forgiveness. She knew he never would. Only, if he would accept her forgiveness!
"You called me only three times. Sent me God damn sixty-five dollars and no message, no return address on the envelope. Fuck you."
And she had to accept it, the way Niley was chattering away to Daddy. Loves Daddy more than he loves Mommy. Always has.
Rebecca returned to the kitchen. She would take the receiver back from Niley. "Niley! Tell Daddy I need to talk to him, before he-"
But when Niley handed the receiver to his mother, Tignor must have already hung up for the line had gone dead.
It wasn't the music. Not the music that grated against her nerves. It was the announcers' voices. Radio voices. Advertisements. Those bright-brassy jolly-rollicking rapidly recited advertisements! And Niley crouched near, listening with frowning concentration. His small head bowed, attentive, in a pose that was not at all child-like. Listening for Daddy's voice in the radio! Rebecca felt a pang of hurt, and of fury, that her child should be so willfully deluded, and so oblivious of her.
"Niley, turn that off."
But Niley did not hear. Niley would not hear Mommy.
"Niley, I said turn that God-damned thing off."
And so Niley might turn the radio volume down, reluctantly. Yet not off. So that Rebecca could still hear the voices like her rapid-chattering thoughts.
She told him no no no. That was not Daddy.
Not Daddy in the radio. No!
None of them. None of the radio voices.
(Did he believe Mommy? Was he even listening to Mommy?)
(And why should he believe Mommy? She was helpless as he was, to know whether Daddy would really return to them this time.)
Yet she too took comfort in it, often. Radio music.
Half-hearing in her sleep. Smiling as a dream of surpassing beauty enveloped her. There was Niley, not a spindly-limbed little boy you worried wasn't growing right, wasn't developing right, but a boy of perhaps fifteen, sixteen; a boy who was no longer a vulnerable child, yet not a hurtful man; a boy whose blurred face was handsome, and whose posture was excellent; as he sat at a piano playing for an audience so large, Rebecca could not see to the edges of it.
"He will. He will do this. Here is the promise."
Her mother had made the promise, Rebecca seemed to think. They had listened to radio music together, in secret. How angry Pa would have been, if he'd known! But Pa had not known.
Pa had suspected, of course. But Pa had not known.
Anna Schwart had played piano, as a girl. A very long time ago in the old world. Before the crossing.
In the dream, Rebecca was suffused with happiness. And made to know how simple happiness is. Like smoothing a wrinkled cloth, dampening the cloth and ironing it, with care. That simple.
"You are a mother, Rebecca. You know what must be done."
Niley's favorite music wasn't piano music, though. Melancholy-whiny country-and-western. Bright pop tunes that made you want to dance. No matter how heavy-hearted she was feeling, Rebecca had to laugh seeing the three-year-old rocking from side to side on short, stubby legs, baby-legs that looked as if they were only just flesh and no bones inside. Inspired, Niley flailed his arms about. He screeched, he trilled. Rebecca pushed aside whatever the hell she was doing, danced with him, his pudgy little hands snatched up in hers. A wildness overcame her, she loved him so. Tignor had not liked her during her pregnancy, and so fuck Tignor: here was the result of the pregnancy, and he was hers.
Careening and banging around the house, reckless colliding with furniture, knocking over a chair, banging/bruising their legs, like a drunk couple overcome by fits of mirth.
"You love Mommy best, don't you! You do."
The music stopped, though. Abruptly, music stops.
Announcers' voices, so grating. God! You came to hate some of these voices like you came to hate people you saw too often, like at school, or at work. Always the same (male) voices. And Niley's expression changed, for now he was listening to hear: Daddy's voice?
Rebecca had tried to explain. Sometimes she didn't trust herself, just walked away.
See the humor in it, girl. Walk away.
Don't touch the child. The terrible rage in you, let it stay in you.
What most scared her, she might hurt Niley. Shake shake shake the obstinate little brat until his teeth rattled, eyes rolled back in his head. For so she'd been disciplined, as a child. She wanted to recall that it had been her father who'd disciplined her but in fact it had been both her mother and her father. She wanted to recall that the discipline had been deserved, necessary, and just but she wasn't so certain that this was so.
Tignor would return perhaps on Sunday.
Why Rebecca thought this, she didn't know. Just a premonition.
Except: it was possible that Tignor would show up outside the factory gate on Friday afternoon, or Monday afternoon. His silver-green 1959 Pontiac idling at the curb.
Hey kid: here.
Almost, Rebecca could hear his voice. She smiled, as she would smile when she heard it.
Hey you night owl folks out there this is Buffalo Radio Wonderful WBEN Zack Zacharias broadcasting the best in jazz through the wee hours.
Niley fell asleep most nights listening to this program. Yet she couldn't enter his room to switch off the radio because he woke so easily; she couldn't enter his room even to switch off the light. If Niley was wakened at such times he was likely to be frightened, and Rebecca would end up having to stay with him.
At least in the night Niley allowed the radio volume to be kept low. He could lie very quietly in his bed a few inches from the radio and take consolation from it.
At least with the door shut between their rooms Rebecca wasn't kept awake by the light.
"When Daddy returns, all this will stop."
Beside Niley's bed was a lamp in the shape of a milk glass bunny from a Chautauqua Falls furniture store. The bunny had upright ears and a pink nose, a small peach-colored shade in some fuzzy fabric. Rebecca admired the lamp, the wan warm glow on the child's sleeping face was comforting to her. The bulb was only sixty watts. You would not want a harsher light in a child's room.
She wondered: had her mother stood over her, gazed upon her as she'd slept? So long ago. She smiled to think yes, maybe.
The danger in motherhood. You relive your early self, through the eyes of your own mother.
In the doorway watching Niley sleep. Long entranced minutes that might have been hours. Her heart pounded with happiness, certainty. A mother knows only that the child is. A mother knows only that the child is because she, the mother, has made it so.
Of course there is the father. But not always.
Niles, Jr. She hoped he would take on some of his father's strength. He seemed to her a child of yearning, impulse. A spring was wound tight in him, like the spring of a toy that clatters about, deranged. Except when he slept, then Niley was fine. His tight-wound soul was quiet.
A glisten of saliva on his mouth like a stray thought. She wanted to kiss it away. But better not.
Strand of damp hair stuck to his forehead. She wanted to brush it away but no, better not.
Hazel Jones's secret son.
The radio on the windowsill was turned low. The music was jazz. The radio, like the lamp, emitted a comforting glow. Rebecca was becoming adjusted to it, no longer so annoyed. The announcer's voice was nothing like the daytime radio voices. Was Zack Zacharias a Negro? His voice was softly modulated, a singing sort of voice, rather playful, teasing. An intimate voice in your ear.
And the music. Rebecca was coming to like the music.
Cool, moody jazz. Seductive. Rebecca recognized piano music of course but knew few other instruments. Clarinet, saxophone? She hated it, that she knew so little.
An ignorant woman, a factory worker. Wife, mother. Had not graduated from high school, even. So ashamed!
Only once had she heard classical music on her father's radio. Only once, in her mother's company. Her father had not known and would have forbidden it. This radio is mine. This news is mine. I am the father, all facts are mine. All knowledge of the world outside this house of sorrow is mine to keep from you, my children.
Tignor had not asked much about Rebecca's parents. He knew a little, and might not have wanted to know more.
Rebecca's brother Herschel used to say, Christ that ain't even his name. "Schwart" ain't even our fuckin' name.
It was all a joke to Herschel. Baring his big wet braying-donkey teeth.
Rebecca asked what was their name, then? If it wasn't "Schwart" what had it been?
Herschel shrugged. Who the hell knew, who the hell cared?
Old-world bullshit, Herschel said. Nobody gives a damn about it in the U.S. of A., I sure don't.
Rebecca begged to know their name if it wasn't Schwart but Herschel walked away with a rude gesture.
If Jacob Schwart had lived, he would now be sixty-three.
Sixty-three! Old, but not really old.
Yet in his soul the man had been elderly even then. Rebecca could remember her father only as old, worn-out.
Upsetting to think such thoughts. It was rare for her, in her new life, to think such thoughts.
Hazel Jones did not think such thoughts.
"Mamama…"
Niley moaned in his sleep, suddenly. As if he'd become aware of Rebecca standing over him.
His smooth child-face was wizened, ugly. Oh, he looked like an elderly man! His skin was waxy-pale. His eyelids fluttered, and that nerve in his forehead. As if a wrong-sized dream, all sharp corners, had poked itself into his brain.
"Niley."
Rebecca's heart was torn, seeing her son trapped in a dream. Her instinct was to save him from such dreams, immediately. But no, better not. Mommy could not always be saving him. He must learn to save himself.
The dream was passing, and would pass. Niley would relax in another minute. He was a child of the new era: born in 1956. You would not call Niles Tignor, Jr. "post-war" (for everything was "post-war") but "post-post-war." Nothing of the past could matter much to him. As World War I was to Rebecca's generation, so World War II would be to Niley's. Old-world bullshit as Herschel said.
Nothing of the Schwarts would prevail in him who had never known them.
That line was extinct, the old, rotted European lineage was broken.
Niley's dream seemed to have vanished. He was sleeping as before, breathing wetly through his mouth. The bunny lamp glowed on his bedside table. The radio on the windowsill emitted a steady, soothing sound of piano-jazz. Rebecca smiled, and backed away. She too would sleep, now. Niley would be all right, she had no need to wake him. Wouldn't kiss him, as she wanted to do. Still he would know (she was sure) that his mother loved him, always his mother was close by, watching, protecting him. Through his life, he would know.
"I have no God to witness. But I vow."
Sunday, in three days. Rebecca counted on her fingers. She smiled to think that Niley's daddy would return to them then. She had a premonition!
Gypsy girl. Jewess…
Tignor's voice was a low helpless moan, a sliding-down moan, delicious to hear. His thick-muscled body quivered with desire as if electric currents ran through it.
Rebecca smiled, recalling. But the blood beat hard and hot in her face. She was no gypsy-girl, and she was no Jewess!
And the blood beat hard and hot between her legs, where she was so lonely.
"God damn." She was having trouble sleeping. In her and Tignor's bed. All this day, these days since the canal towpath, oh Christ her nerves were strung tight like wire.
The weather was turning at last. Wind from the great roiling-dark lake forty miles to the north seemed to push against the windowpanes of the old farmhouse. By morning the dreamy Indian-summer weather would have been blown away, the air would be sharper, colder, damp. That taste of winter to come. Winter in the Chautauqua Valley, in the foothills of the mountains…
But no. She would not think about it. Not the future beyond the next few days.
As her parents had gradually ceased thinking about the future.
Like animals they'd become, at the end. With no future, that was what happened to you.
Desperate to sleep! Within a few hours she'd have to get up, return to Niagara Fiber Tubing. Not the thin pale froth-sleep that washed over her aching brain and brought little nourishment but the deeper more profound sleep she required, the sleep that slowed your heartbeat toward death, the sleep that stripped from you all awareness of time, place, who you are or have ever been.
"Tignor. I want you! I want you inside me. I want you…"
He'd urged her to say his special words to him: fuck, fuck me. Hurt me some.
The more hesitant she'd been, the more embarrassed, shame-faced, the more Tignor had loved it. You could see that the man's pleasure was increased immeasurably, a tall stein into which ale was being poured, poured-poured-poured until, foaming, it overflowed.
He'd been her only lover. Niles Tignor. What he did to her, what he taught her to do to him. How painful it was to lie here in this bed and not think of him, not think of those things, her heartbeat quickened in desire.
Futile, this desire. For even if she touched herself it was not Tignor.
Before Tignor she had never slept in so large a bed. She didn't feel that she deserved so large a bed. (Yet it was just an ordinary bed, she supposed. Secondhand, bought here in Chautauqua Falls. It had a slightly tarnished brass frame and a new, hard, unyielding mattress that had quickly become stained with Tignor's salty sweat.)
She turned, to lie on her back. In the adjacent room, turned low, the damn radio was playing. She couldn't hear the music but she felt the beat. She spread out her arms, her armpits were wet. Her thick hair dense as a horse's mane had dried at last and was fanned out around her head on the pillow in that way that Tignor, face taut with a hard, sensual pleasure, sometimes arranged it with his clumsy hands.
This is what you want, Gypsy-girl, eh? Is it?
He had other women, she knew. She'd known before she married him what he was. In the hotel in which she'd worked there were tales of Niles Tignor. Through the Chautauqua Valley, and beyond. She understood it wasn't reasonable for any woman of Tignor's to expect a man like him to be faithful in the way that ordinary men are faithful to women. Hadn't Tignor said to Rebecca, shortly after they were married, not cruelly but with an air of genuine surprise that she should be jealous: "Jesus, kid-they like me, too."
Rebecca laughed, remembering. Knuckles jammed against her mouth.
But it was funny. You had to have a sense of humor to appreciate Niles Tignor. He expected you to make him laugh.
She lay on her back now. Sometimes that worked. Her muscles began to twitch. There was her damn hand drifting near the God damn stamping machine…She drew it back just in time.
In some other universe it might've happened. Her hand mangled like meat. Severed from her arm. What she deserved, stupid cunt not watching what she was doing.
How Tignor would stare! Rebecca had to laugh, imagining.
He'd hated her big-whale belly. Staring in fascination, and couldn't keep his hands off.
The way the wind blew in the yew trees. A sound like voices jeering. This was the old Wertenbacher farm, so-called still in the neighborhood. By now, three years later, Rebecca would have thought they would have their own house.
He did love them. Her and Niley. In his heart he was not unfaithful.
In his heart, her father Jacob Schwart had loved her. He had loved them all. He had not meant to hurt them, he had only meant to erase history.
You are one of them. Born here.
Was this so? She hugged herself, smiling. Drifting at last into sleep as into a stone well so deep it had no bottom.
Through the summer and fall of 1974 the house rang with Beethoven's "Appassionata." That music!
As in a dream she who was the mother of the young pianist moved open-eyed and unseeing. Lovesick she found herself standing outside the closed door of the music room, entranced.
"He will. He will play it. This is his time."
She who lacked an ear for the subtleties of piano interpretation could not have said if the sonata she heard bore a profound or a merely superficial relationship to the recording by Artur Schnabel she'd heard twenty-five years before in the parlor of the old stone cottage in the cemetery.
Inside the music room her exacting son was forever starting, and stopping. Starting, and stopping. Now the left hand alone, now the right. Now both hands together and back to the beginning and ceasing abruptly and returning again to the beginning in the way of a small anxious child beginning to walk upright, stumbling and flailing for balance. If he had wished, Zack could play the sonata unimpeded: he could play it straight through, striking every note. He had that ability, the mechanical facility of the piano prodigy. But a deeper resonance was required. A deeper desperation.
The desperation beneath, Hazel supposed to be inside the music itself. It was that of the composer, Beethoven. It was the man's soul into which the young pianist must descend. She listened, wondering if the choice of the sonata had been a mistake. Her son was so young: this was not music for youth. She became excited, almost feverish in listening. Stumbling away exhausted not wanting Zack to know she'd been listening outside the door of the music room for it would annoy and exasperate him, who knew his mother so intimately.
Bad enough I'm trying not to go crazy myself, Mother I don't intend to be responsible for you going crazy too.
He was restless! At the age of fifteen he'd placed second in the 1972 Montreal Young Pianists Competition, and at the age of sixteen he'd placed first in the 1973 Philadelphia Young Pianists Competition, and now nearing his eighteenth birthday he was preparing for the 1974 San Francisco International Piano Competition.
Hours. Each day at the piano. At the Conservatory, and at home. And into the night hours and through the night in the throes of music rushing through his sleep-locked brain with the terrible power of cascading water over a falls. And this music was not his and must not be impeded, choked-back. A vast tide to the very horizon! It was a tide that encompassed time as well as space: the long-dead as well as the living. To choke back such a force would be to suffocate. At the piano sometimes leaning into the keyboard suddenly desperate for air, oxygen. That piano smell of old ivory, fine wood and wood polish, this was poison. Yet at other times away from the piano knowing he must take a break from the piano for sanity's sake at such times in even the outdoor air of Delaware Park and in the presence of another (Zack was in love, maybe) a sensation of helplessness came over him, the panic that he would suffocate if he could not complete a passage of music struggling to make its way through him except: his fingers were inadequate without the keyboard and so he must return to the keyboard or he would suffocate.
Trying not to go crazy Mother. Help me!
In fact he blamed her.
Rarely allowed her to touch him, now.
For Zack was in love (maybe). The girl was two years older than he was, in his German language class and a serious musician: a cellist.
Except not so good a cellist as you are a pianist, Zack. Thank God!
It was this girl's way to speak bluntly. Her way to laugh at the expression on his face. They were not yet intimate, they had not yet touched. She could not console him with a kiss, for the shock she'd caused him. For he was one to whom music is sacred, no more to be laughed at than death is to be laughed at.
You could laugh at death though. From the farther side recalling the grassy canal bank they'd walked along, how on the farther side was the towpath but the nearer side where no one walked except Mommy and him (so little, Mommy had to grip his hand to keep him from stumbling!) was grassy and overgrown.
Laugh at death if you could cross over why the hell not!
She knew. A mother knows.
Beginning to be wary, anxious. Her son was growing apart from her.
It wasn't the piano, the demands of practice. Hazel was never jealous of the piano!
Thinking when she heard him playing He is in the right place now of all the world. Where he was born to be. Taking comfort knowing he was hers. Rather, it was a reaction against the piano she feared.
Against his own talent, "success." His own hands she saw him studying sometimes, examining with a clinical and faintly bemused detachment. Mine?
If he injured his hands. If somehow.
He was interested in European history: World War II. He'd taken a course at the university. He was interested in philosophy, religion. There was a feverish tone to his voice, an uneasy tremor. As if the world's secrets might yield to him, if only he had the key. To Hazel's dismay Zack began talking of the most preposterous things! One day it was the ancient Indian Upanishads, one day it was the nineteenth-century German philosopher Schopenhauer, one day it was the Hebrew Bible. He began to be argumentative, aggressive. Saying suddenly at the dinner table, as if this were a crucial issue they'd been avoiding: "Of all the religions, wouldn't the oldest be closest to God? And who is "God'? What is "God'? Are we to know this God, or only just one another? Is our place with God or with one another, on earth?" His expression was quizzical, earnest. He was leaning his elbows on the table, hunched forward.
Gallagher tried to talk with his stepson, more or less seriously. "Well, Zack! Glad you asked. My personal feeling is, religion is mankind trying to get a handle on what's outside "man." Each religion has a different set of answers prescribed by a self-appointed priestly caste and each religion, you can be sure, teaches it's the "only' religion, sanctified by God."
"But that doesn't mean that one of the religions isn't true. Like if there are twelve answers to an algebra problem eleven might be wrong and one right."
"But "God' isn't a provable math problem, Zack. "God' is just a catchall term we give to our ignorance."
"Or even, maybe," Zack said excitedly, "the different ways of human speech are crude and clumsy and are actually pointing toward the same thing, but different languages make them confused. Like, "God' is behind the religions, like the sun you can't look at directly, you'd go blind, except if there was no sun, see, then you would really be blind, because you couldn't see a damned thing. Maybe it's like that?"
To Hazel's knowledge, Zack had never spoken so passionately about anything before, except music. He was leaning his elbows onto the table clumsily so that the lighted candles wavered, screwing up his face in a way that reminded Hazel horribly of Jacob Schwart.
Her son! In hurt and chagrin Hazel stared at him.
Gallagher said, trying to joke, "Zack, I had no idea! What a budding theologian we have in our midst."
Zack said, stung, "Don't condescend to me, "Dad," O.K.? I'm not somebody on your TV show."
Now Zack was Gallagher's legally adopted son sometimes he called Gallagher "Dad." Usually it was playful, affectionate. But sometimes with a twist of adolescent sarcasm, like now.
Gallagher said quickly, "I don't mean to condescend, Zack. It's just that discussions like this make people upset without enlightening them. There is a similarity between religions, isn't there, a kind of skeleton in common, and like human beings, with human skeletons-" Gallagher broke off, seeing Zack's look of impatience. He said, annoyed, "Believe me, kid, I know. I've been there."
Zack said sullenly, "I'm not a kid. In the sense of being an idiot I'm not a fucking kid."
Gallagher, smiling hard, determined to charm his stepson into submission, said, "Intelligent people have been quarreling over these questions for thousands of years. When they agree, it's out of an emotional need to agree, not because there is anything genuine to "agree' about. People crave to believe something, so they believe anything. It's like starving: you'd eat practically anything, right? It's been my experience-"
"Look, "Dad," you aren't me. Neither one of you is me. Got it?"
Zack had never spoken so rudely in the past. His eyes glittered with angry tears. He'd had a strained session with his piano teacher that day, perhaps. His life was complicated now in ways Hazel could not know, for he kept much to himself, she dared not approach him.
Gallagher tried again to reason with Zack, in Gallagher's affably bantering way that was so effective on television (Gallagher now had a weekly interview show on WBEN-TV Buffalo, a Gallagher Media production) but not so effective with the boy who squirmed with impatience and all but rolled his eyes as Gallagher spoke. Hazel sat forlorn, lost. She understood that Zack was defying her, not Gallagher. He was defying her who had taught him since childhood that religion was for those others, not for them.
Poor Gallagher! He was red-faced and breathless as a middle-aged athlete grown complacent in his skills who has just been outmaneuvered by a young athlete whom he has failed to take seriously.
Zack was saying, "Music isn't enough! It's only a part of the brain. I have a whole brain, for Christ's sake. I want to know about things other people know." He swallowed hard. He shaved now, the lower half of his face appeared darker than the rest, his short upper lip covered in a fine dark down. Within seconds he was capable of childish petulance, good-natured equanimity, chilling hauteur. He had not once glanced at Hazel during the exchange with Gallagher nor did he look at her now, saying, in a sudden rush of words, "I want to know about Judaism, where it comes from and what it is."
Judaism: this was a word never before spoken between Hazel and Zack. Nor even the less formal words Jews, Jewish.
Gallagher was saying, "Of course, I can understand that. You want to know all that you can know, within reason. Beginning with the old religions. I was the same way myself…" Gallagher was fumbling now, uncertain. He was vaguely conscious of the strain between Hazel and Zack. As a man of the world with a certain degree of renown he was accustomed to being taken seriously, certainly he was accustomed to being deferred to, yet in his own household he was often at sea. Doggedly he said, "But the piano, Zack! That must come first."
Zack said hotly, "It comes first. But it doesn't come second, too. Or third, or fucking last."
Zack tossed his crumpled napkin down onto his plate. He'd only partly eaten the meal his mother had prepared, as she prepared all household meals, with such care. She felt the sting of that gesture as she felt the sting of the purposefully chosen expletive fucking, she knew it was aimed at her heart. With quavering adolescent dignity Zack pushed his chair back from the table and stalked out of the room. The adults stared after him in astonishment.
Gallagher groped for Hazel's limp hand, to comfort her.
"Somebody's been talking to him, d'you think? Somebody at the university."
Hazel sat still and unmoving in her state of shock as if she'd been slapped.
"It's the pressure he's under, with that sonata. It's too mature for him, possibly. He's just a kid, and he's growing. I remember that miserable age, Christ! Sex-sex-sex. I couldn't keep my mind on the keyboard, let me tell you. It's nothing personal, darling."
To spite me. To abandon me. Because he hates me. Why?
She fled from both the son and the stepfather. She could not bear it, such exposure. As if the very vertebrae of her backbone were exposed!
She was not crying when Gallagher came to comfort her. It was rare for Hazel Jones to cry, she detested such weakness.
Gallagher talked to her, tenderly and persuasively. In their bed she lay very still in his arms. He would protect her, he adored his Hazel Jones. He would protect her against her rude adolescent son. Though saying of course Zack didn't mean it, Zack loved her and would not wish to hurt her, she must know this.
"Yes. I know it."
"And I love you, Hazel. I would die for you."
He talked for a long time: it was Gallagher's way of loving a woman, with both his words and his body. He was not a man like the other, who had little need of words. Between her and that man, the boy's father, had been a deeper connection. But that was finished now, extinct. No more could she love a man in that way: her sexual, intensely erotic life was over.
She was deeply grateful to this man, who prized her as the other had not. Yet, in his very estimation of her, she understood his weakness.
She did not want to be comforted, really! Almost, she preferred to feel the insult aimed at her heart.
Thinking scornfully In animal life the weakest are quickly disposed of. That's religion: the only religion.
Yet she'd returned in secret several times to the park where the man in soiled work clothes had approached her and spoken to her.
My name is Gus Schwart.
Do I look like anybody you know?
Of course, she had not seen him again. Her eyes filled with tears of dismay and indignation, that she might have hoped to see him again, who had sprung at her out of nowhere.
How it had pierced her heart, that man's voice! He had spoken her name, she had not heard in a very long time.
My sister Rebecca, we used to live in Milburn…
She'd looked up Schwart in the local telephone directory and called each of the several listings but without success.
In Montreal, and in Toronto, where they'd traveled in recent years, Hazel had also looked up Schwart and made a few futile calls for she had the vague idea that Herschel was somewhere in Canada, hadn't Herschel spoken of crossing the border into Canada and escaping his pursuers…
"If he's alive. If any "Schwarts' are alive."
She began to be anxious as she had not been anxious before the earlier competitions reasoning He is young, he has time for now her son was nearly eighteen, rapidly maturing. A taut tense sexual being he was. Impulsive, irritable. Nerves caused his skin to break out, in disfiguring blemishes on his forehead. He would not confide in his parents, that he suffered indigestion, constipation. Yet Hazel knew.
She could not bear it, that her gifted son might yet fail. It would be death to her, if he failed after having come so far.
"The breath of God."
That roadside café in Apalachin, New York! The hot-skinned child on her lap snug in Mommy's arms reaching up eagerly to play the broken keyboard of a battered old upright piano. Smoke haze, the pungent smell of beer, drunken shouts and laughter of strangers.
Jesus how's he do it, kid so little?
She smiled, they'd been happy then.
He was an affably drunken older man acquainted with Chet Gallagher eager to meet Gallagher's little family.
Introduced himself as "Zack Zacharias." He'd heard that Gallagher's stepson was a pianist named "Zacharias," too.
This was at the Grand Island Yacht Club to which Gallagher took his little family to celebrate, when Zack was informed he'd been selected as one of thirteen finalists in the San Francisco competition.
Gallagher's philosophy was: "Celebrate when you can, you might never have another chance."
Weaving in the direction of their riverside table was the affably drunken man with stained white hair in a crew cut, lumpy potato face and merry eyes reddened as if he'd been rubbing them with his knuckles.
He'd come to shake Gallagher's hand, meet the missus but mostly to address the young Zacharias.
"Coincidence, eh? I like to think coincidences mean something even when likely they don't. But you're the real thing, son: a musician. Read about you in the paper. Me, I'm a broke-down ol' d.j. Twenty-six friggin' yeas on WBEN Radio Wonderful broadcasting the best in jazz through the wee night hours"-his voice pitched low into a beautifully modulated if slightly mocking Negro radio voice-"and the lousy sonsabitches are dropping me from the station. No offense, Chet: I know you ain't to blame, you ain't your old man friggin' Thaddeus. My actual name, son"-stooping over the table now to shake the hand of the cringing boy-"is Alvin Block, Jr. Ain't got that swing, eh?"
Shaking his hips, wheezing with laughter as the white-jacketed maître d' hurried in his direction to lead him away.
(The Grand Island Yacht Club! Gallagher was apologetic, also a bit defensive, on the subject.
As a local celebrity Chet Gallagher had been given an honorary membership to the Grand Island Yacht Club. The damned club had a history-invariably, Gallagher called it a "spotty history"-of discrimination against Jews, Negroes, "ethnic minorities," and of course women, an all-male all-Caucasian Protestant private club on the Niagara River. Certainly Gallagher scorned such organizations as undemocratic and un-American yet in this case there were good friends of his who belonged, the Yacht Club was an "old venerable tradition" in the Buffalo area dating back to the 1870s, why not accept their hospitality that was so graciously offered, so long as Chet Gallagher wasn't a dues-paying member.
"And the view of the Niagara River is terrific, especially at sunset. You'll love it, Hazel."
Hazel asked if she would be allowed into the Yacht Club dining room.
Gallagher said, "Hazel, of course! You and Zack both, as my guests."
"Even if I'm a woman? Wouldn't the members object?"
"Certainly women are welcome at the Yacht Club. Wives, relatives, guests of members. It's the same as at the Buffalo Athletic Club, you've been there."
"Why?"
"Why what?"
"Why'd women be "welcome," if they aren't? And Jews, and Ne-groes?" Hazel gave Ne-groes a special inflection.
Gallagher saw she was teasing now, and looked uncomfortable.
"Look, I'm not a dues-paying member. I've been there only a few times. I thought it might be a nice place to go for dinner on Sunday, to celebrate Zack's good news." Gallagher paused, rubbing his nose vigorously. "We can go somewhere else, Hazel. If you prefer."
Hazel laughed, Gallagher was looking so abashed.
"Chet, no. I'm not one to "prefer' anything.")
Sometimes I'm so lonely. Oh Christ so lonely for the life you saved me from but he would have stared at her astonished and disbelieving.
Not you, Hazel! Never.
In Buffalo they lived at 83 Roscommon Circle, within a mile's radius of the Delaware Conservatory of Music, the Buffalo Historic Society, the Albright-Knox Art Gallery. They were invited out often, their names were on privileged mailing lists. Gallagher scorned the bourgeois life yet was bemused by it, he acknowledged. Overnight Hazel Jones had become Mrs. Chet Gallagher, Hazel Gallagher.
As, young, she'd been an able and uncomplaining chambermaid in an "historic" hotel, now in youthful middle age she was the caretaker of a partly restored Victorian house of five bedrooms, three storeys, steeply pitched slate roofs. Originally built in 1887, the house was made of shingle-board, eggshell with deep purple trim. Maintaining the house became crucial to Hazel, a kind of fetish. As her son would be a concert pianist, so Hazel would be the most exacting of housewives. Gallagher, away much of the day, seemed not to notice how Hazel was becoming overly scrupulous about the house for anything Hazel did was a delight to him; and of course Gallagher was hopeless about anything perceived as practical, domestic. By degrees, Hazel also took over the maintenance of their financial records for it was much easier than waiting for Gallagher to assume responsibility. He was yet more hopeless with money, indifferent as only the son of a wealthy man might be indifferent to money.
With the instinct of a pack rat, Hazel kept receipts for the smallest purchases and services. Hazel kept flawless records. Hazel sent by registered mail photocopied materials to Gallagher's Buffalo accountant on a quarterly basis, for tax purposes. Gallagher whistled in admiration of his wife. "Hazel, you're terrific. How'd you get so smart?"
"Runs in the family."
"How so?"
"My father was a high school math teacher."
Gallagher stared at her, quizzically. "Your father was a high school math teacher?"
Hazel laughed. "No. Just joking."
"Do you know who your father was, Hazel? You've always said you didn't."
"I didn't, and I don't." Hazel wiped at her eyes, couldn't seem to stop laughing. For there was Gallagher, well into his fifties, staring at her gravely in that way of a man so beguiled by love he will believe anything told him by the beloved. Hazel felt she could reach into Gallagher's rib cage and touch his living heart. "Just teasing, Chet."
On tiptoes to kiss him. Oh, Gallagher was a tall man even with shoulders slouched. She saw that his new bifocals were smudged, removed them from his face and deftly polished them on her skirt.
Mrs. Chester Gallagher.
Each time she signed her new name it seemed to her that her handwriting was subtly altered.
They traveled a good deal. They saw many people. Some were associated with music, and some were associated with the media. Hazel was introduced to very friendly strangers as Hazel Gallagher: a name faintly comical to her, preposterous.
Yet no one laughed! Not within her hearing.
Gallagher, the most sentimental of men as he was the most scornful of men, would have liked a more formal wedding but saw the logic of a brief civil ceremony in one of the smaller courtrooms of the Erie County Courthouse. "Last thing we want is cameras, right? Attention. If my father found out…" The ten-minute ceremony was performed by a justice of the peace on a rainy Saturday morning in November 1972: the exact tenth anniversary of Gallagher and Hazel meeting in the Piano Bar of the Malin Head Inn. Zack was the sole witness, the bride's teenaged son in a suit, necktie. Zack looking both embarrassed and pleased.
Gallagher would believe he'd been the one to talk Hazel Jones into marrying him, at last. Joking that Hazel had made an honest man of him.
Ten years!
"Someday, darling, you'll have to tell me why."
"Why what?"
"Why you refused to marry me for ten long years."
"Ten very short years, they were."
"Long for me! Every morning I expected you to have disappeared. Cleared out. Taken Zack, and left me heartbroken."
Hazel was startled, at such a remark. Gallagher was only joking of course.
"Maybe I didn't marry you because I didn't believe that I was a good enough person to marry you. Maybe that was it."
Her light enigmatic Hazel Jones laugh. She'd tuned to perfection, like one of Zack's effortlessly executed cadenzas.
"Good enough to marry me! Hazel, really."
As Gallagher had arranged to marry Hazel in the Erie County Courthouse, so Gallagher arranged to adopt Zack in the Erie County Courthouse. So proud! So happy! It was the consummation of Gallagher's adult life.
The adoption was speedily arranged. A meeting with Gallagher's attorney, and an appointment with a county judge. Legal documents to be drawn up and signed and Zack's creased and waterstained birth certificate issued as a facsimile in Chemung County, New York, to be photocopied and filed in the Erie County Hall of Records.
Legally, Zack was now Zack Gallagher. But he would retain Zacharias Jones as his professional name.
Zack joked he was the oldest kid adopted in the history of Erie County: fifteen. But, at the signing, he'd turned abruptly away from Gallagher and Hazel not wanting them to see his face.
"Hey, kid. Jesus."
Gallagher hugged Zack, hard. Kissed the boy wetly on the edge of his mouth. Gallagher, most sentimental of men, didn't mind anyone seeing him cry.
Like guilty conspirators, mother and son. When they were alone together they burst into laughter, a wild nervous flaming-up laughter that would have shocked Gallagher.
So funny! Whatever it was, that sparked such laughter between them.
Zack had been fascinated by his birth certificate. He didn't seem to recall ever having seen it before. Hidden away with Hazel Jones's secret things, a small compact bundle she'd carried with her since the Poor Farm Road.
Zack asked if the birth certificate was legitimate, and Hazel said sharply Yes! It was.
"My name is "Zacharias August Jones' and my father's name is "William Jones'? Who the hell's "William Jones'?"
""Was.""
""Was' what?"
""Was," not "is." Mr. Jones is dead now."
Secrets! In the tight little bundle inside her rib cage in the place where her heart had been. So many secrets, sometimes she couldn't get her breath.
Thaddeus Gallagher, for instance. His gifts and impassioned love letters to Dearest Hazel Jones!
In fall 1970, soon after Hazel received the first of these, an individual wishing to be designated as an anonymous benefactor gave a sizable sum of money to the Delaware Conservatory of Music earmarked as a scholarship and travel fund for the young pianist Zacharias Jones. Money was required for the numerous international piano competitions in which young pianists performed in hope of winning prizes, public attention, concert bookings and recording deals, and the donation from the anonymous benefactor would allow Zacharias to travel anywhere he wished. Gallagher who intended to manage Zack's career was keenly aware of these possibilities: "André Watts was seventeen when Leonard Bernstein conducted him in the Liszt E-flat concerto, on national television. A bombshell." And of course there was the legendary 1958 Tchaikovsky Competition in which twenty-four-year-old Van Cliburn took away the first prize and returned from Soviet Russia an international celebrity. Gallagher knew! But he was damned suspicious of the anonymous benefactor. When administrators at the Conservatory refused to tell him the benefactor's identity, Gallagher became suspicious and resentful. To Hazel he complained, "What if it's him. God damn!"
Naively Hazel asked, "Who is him?"
"My God-damned father, who else! It's three hundred thousand d